18 December 2021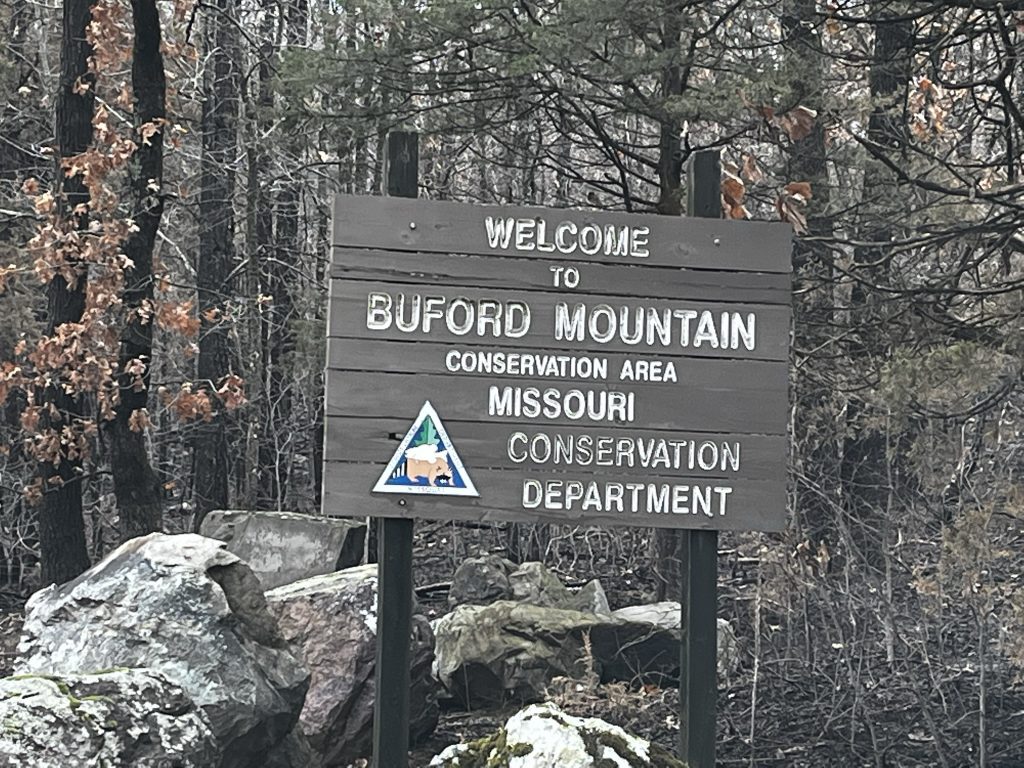 POTA and SOTA Together
My wife was was going to be out all day hanging out with a friend so I decided to activate a park while she was gone. After some looking around I found Buford Mountain Conservation Area in Missouri about an hour and a half away. Turned out that it was POTA K-8281 and SOTA W0M/SF-002! I hadn't done any SOTA activations yet so it took me a minute to figure out how to schedule an activation on SOTA Watch.
Getting There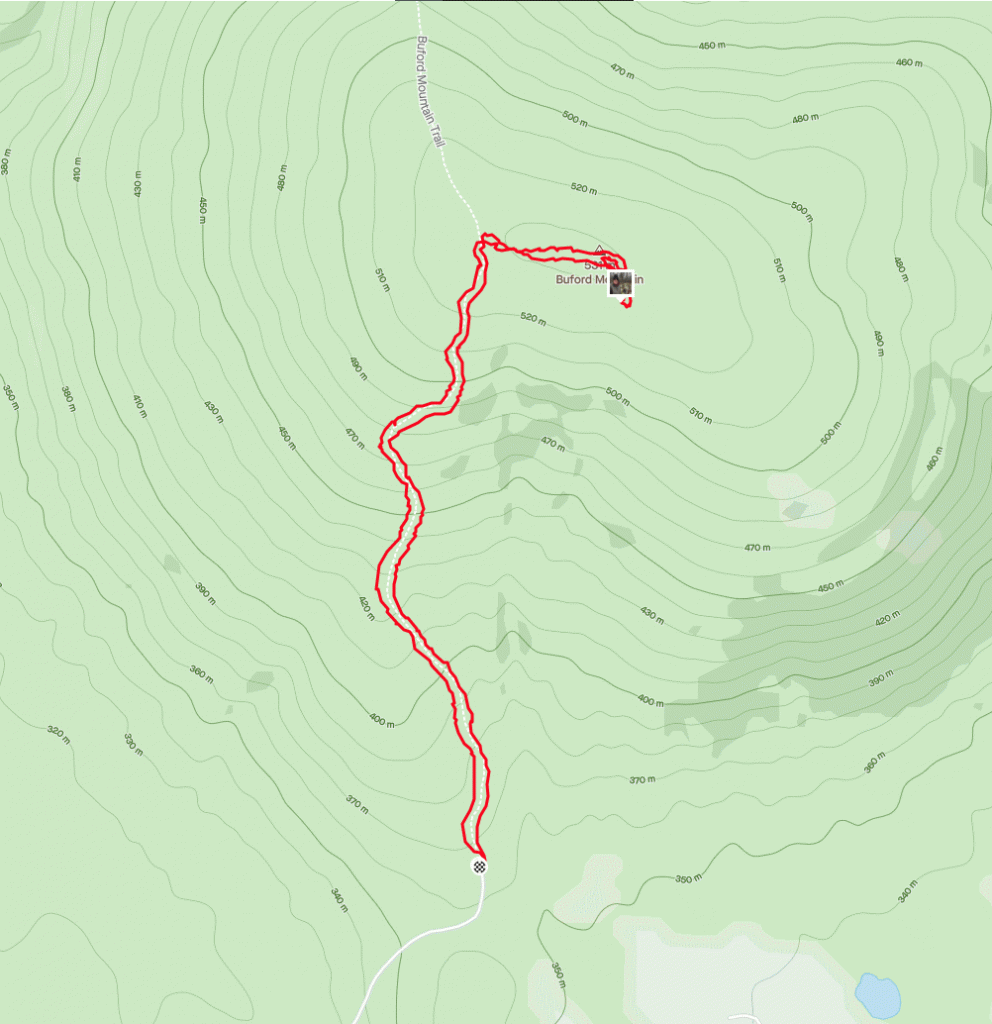 The parking area at the trail head was easy enough to find with GPS. From there the hike is easy enough with a bit over 500 feet of elevation gain, but the trail has a lot of baseball sized rocks so watch your step. I brought my trekking poles for this one and I'm glad I did.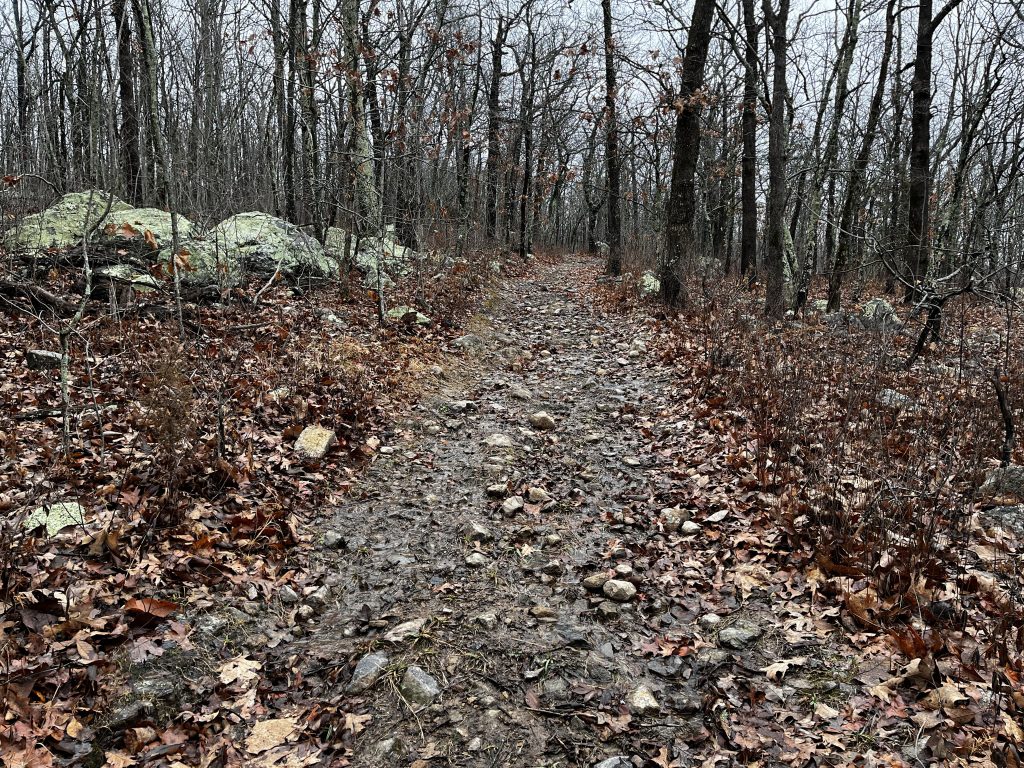 Setting Up Shop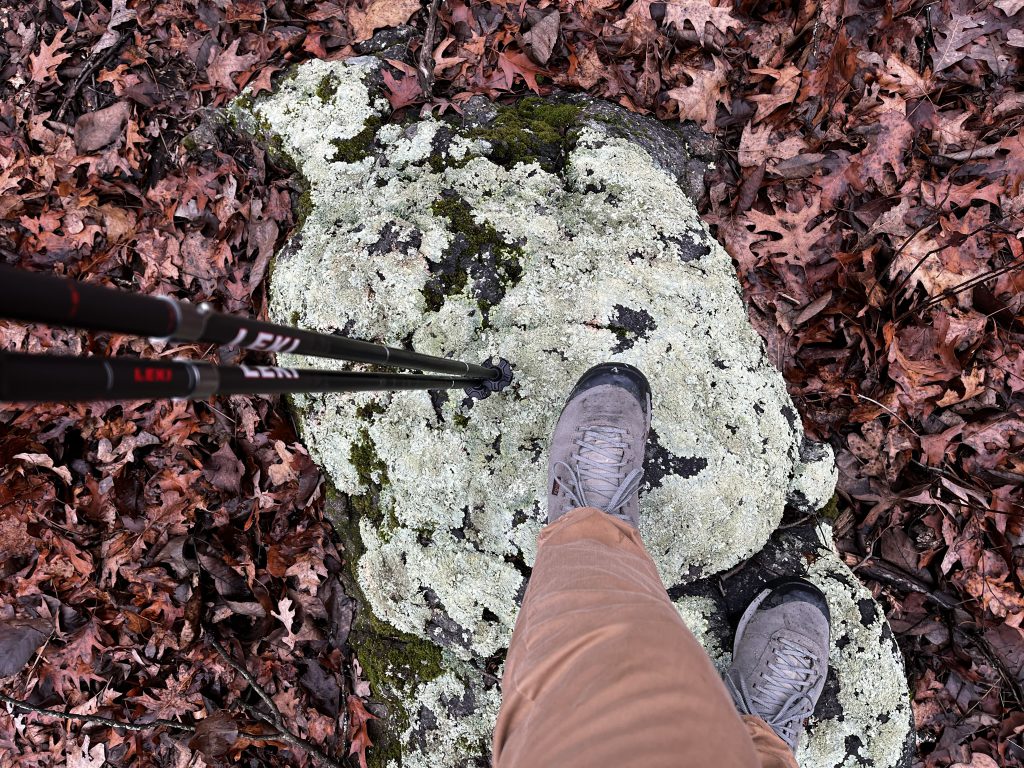 This being my first SOTA outing I figured I should find the actual summit. According to GPS this rock is it.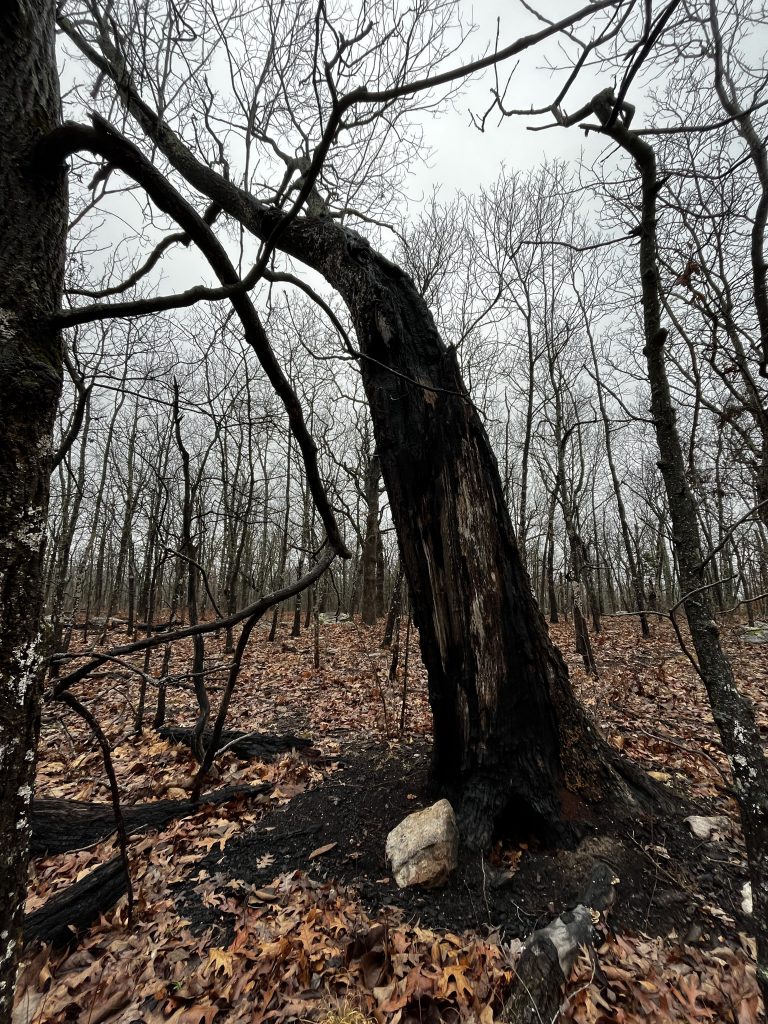 There were a few trees that looked like they got the business end of a lightning strike.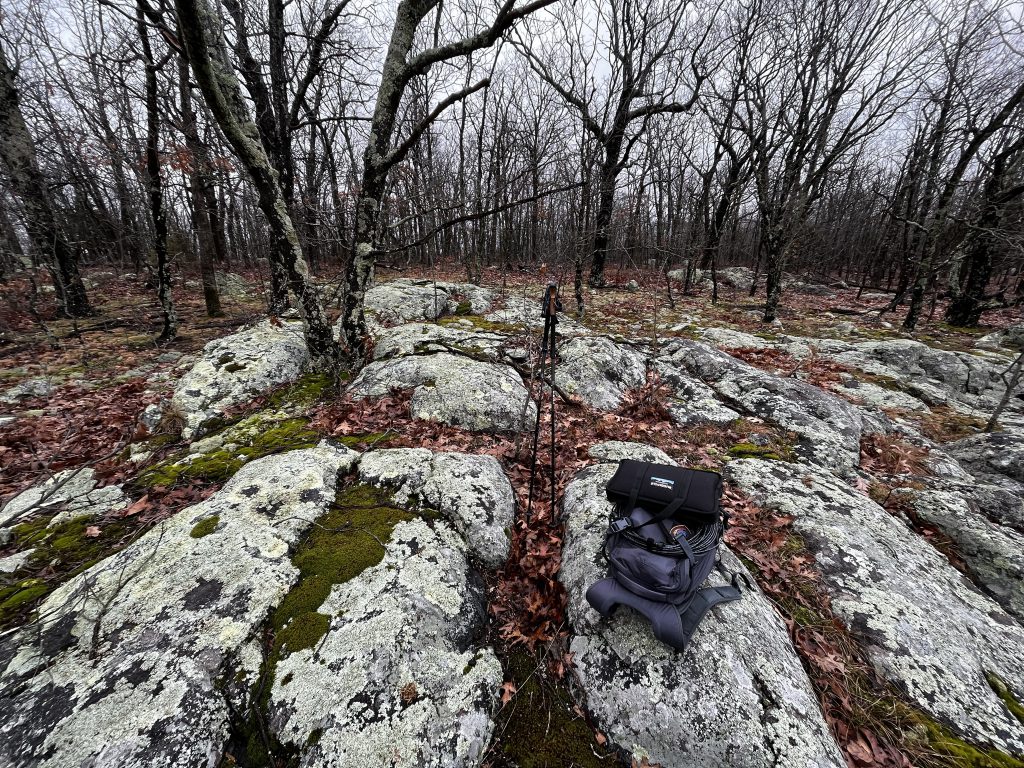 After "summiting" I decided to setup shop on a nearby rock formation. The top was mostly flat so this was well within the activation zone and possibly higher than what the GPS said was the summit. It was slightly less windy and the rock gave a bit of a spot to sit and set everything up.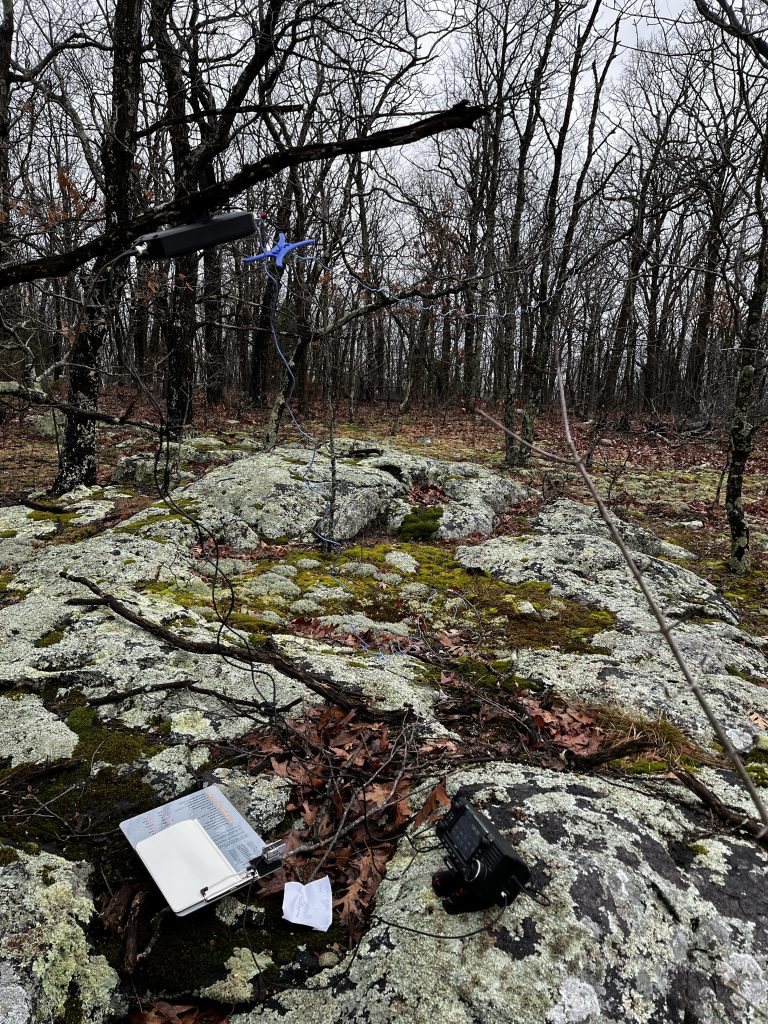 I think I spent more time trying to get the line into the tree then I actually did operating this time. It took a few tries with the fishing line and sling shot but I was able to get my 83′ wire up into the tree in an inverted-vee configuration. It was connected to the AH-705 with a 17′ counterpoise wire under it. I didn't know what to expect at the top so I brought the Buddistick Pro as well, but ended up not using it.
Key and pencil in hand I called alternating CQ SOTA then CQ POTA and I must of been picked up by RBN pretty quick because it was a tidal wave of calls after that. I've never experienced a QRP pile up like this before so it was a bit of work picking a call out of the 5 or more that were calling at the same time. Thank you all for your patience as I tried to work through as quick as possible! I started on 40 until a pair of stations started calling on either side of me so close that it was starting to confuse everyone. I switched over to 30M and continued working until the same situation started all over again. I ended up with 33 and one P2P before deciding to call it quits. I still had a decent hike back down and wanted to get back to the truck before someone decided to turn the lights off on this side of the earth.
The antenna configuration was fairly low and I must of been working mostly NVIS because I worked more Missouri, Wisconsin, Kansas, and Illinois stations than ever before. It was a blast working such a pileup with just 5w. I'll have to make an effort to search out these combo spots in the future. The Midwest isn't exactly known for its mountains so SOTA is usually an afterthought for me. I have a lot of leave saved up, maybe it's time for a radio road trip!
73 – KK9U