Sequence of Events
Opening Narration
Arrival of the Official Party
The National Anthem
Introduction of Distinguished Guests
Remarks by Colonel Metzler
Decoration Presentation
Retirement Order
Retirement Certificate
Letters & Presentations
Retirement Pin
Remarks by MSgt A. McMahon
Air Force Song
Departure of the Official Party
The Air Force Song Lyrics
Off we go into the wild blue yonder,
Climbing high into the sun;
Here they come zooming to meet our thunder,
At 'em boys, Give 'er the gun! (Give 'er the gun now!)
Down we dive, spouting our flame from under,
Off with one helluva roar!
We live in fame or go down in flame. Hey!
Nothing'll stop the U.S. Air Force!
Colonel Scott Metzler Biography
Colonel Scott A Metzler is currently a student at the Eisenhower School for National Security and Resource Strategy at Fort McNair, Washington, D.C. His previous assignment was the Deputy Commander, 432th Air and Space Communications Group, Ramstein Air Base, Germany. He led 547 Airmen in three squadrons providing United States Air Force's in Europe only specializes maintenance, combat communications and C4ISR systems support for the North Atlantic Treaty Organization, United States European Command, and Africa Command. His responsibilities included combat readiness of theater deployable communications and airfield assets valued at $150 million; operation and maintenance of the theatre's Joint Worldwide Intelligence Communications and Global Command and Control System as well as intelligence networks serving 1,000 users at 25 locations, all valued at $1 billion across U.S. Air Forces in Europe's 104-country area of responsibility.
Col Metzler enlisted in the Air Force in 1996, earned his commission in 2002, and has served in leadership and staff positions at squadron, group, wing and sub-unified joint command levels. Col Metzler is from Palmetto, FL and is married to the former Jennie Hawk of Parrish, FL. They have two daughters, Emma, 22 and Grace, 21.
EDUCATION
Air War College (correspondence), Air University, Maxwell AFB, AL, 2017
MAS, Military Operational Art and Science, Air University, Maxwell AFB, AL, 2016
MA, International Relations, University of Oklahoma, Norman, OK (SHAPE, Belgium), 2014
MS, Info Resource Mgmt, Central Michigan University, Mt. Pleasant, MI (Seymour Johnson, NC), 2004
Squadron Officer School, Maxwell Air Force Base, AL, 2008
United States Marine Corps Expeditionary Warfare School, Quantico, VA, 2008
Bachelor of Science, Management, Park University, Parkville, MO (Moody AFB, GA), 1999
ASSIGNMENTS
Apr 96 – Aug 96, Student, Engineering Assistant School, Fort Leonard Wood, MO
Aug 96 – Dec 99, Engineering Technician, 347th Civil Engineer Squadron, Moody AFB, GA
Dec 99 – Mar 02, Instructor, Detachment 7, 366th Training Squadron, Fort Leonard Wood, MO
Apr 02 – Jun 02, Student, Officer Training School, Maxwell AFB, AL
Jun 02 – Sep 04, Communications Officer, Seymour Johnson AFB, NC
Oct 04 – Aug 05, Chief, Plans and Programs Branch, 366th Fighter Wing, Mountain Home AFB, ID
Aug 05 – Jun 07, Plans and Implementation Flt Commander, 366th Comm Squadron, Mt. Home AFB, ID
Jul 07 – Jun 08, Student, United States Marine Corps Expeditionary Warfare School, Quantico, VA
Jul 08 – Apr 11, Chief, Communications Flight, 820th Combat Operations Squadron, Moody AFB, GA
Apr 11 – Feb 12, Director of Support, 93rd Air Ground Operations Wing, Moody AFB, GA
Mar 12 – Jun 14, CIS Analyst/Executive Officer, NATO Comm and Info Agency, SHAPE, Belgium
Jul 14 – Jun 15, Commander, 8th Communications Squadron, Kunsan Air Base, Republic of Korea
Jul 15 – Jul 16, Student, Air Command and Staff College, Maxwell AFB, AL
Jul 16 – Jun 18, Chief, Joint Data Network Operations, Yongsan AIN, Republic of Korea
Jun 18 – Jun 20, Commander, 374th Communications Squadron, Yokota AB, Japan
Jun 20 – Jun 21, Executive Officer to the Commander, 7th Air Force, Osan AB, Republic of Korea
Jun 21 – Jun 23, Deputy Commander, 435th Air and Space Comm Group, Ramstein AB, Germany
Jul 23 – Present, Student, Eisenhower School, Fort McNair, Washington, D.C.
MAJOR AWARDS AND DECORATIONS
Bronze Star Medal
Defense Meritorious Medal
Meritorious Service Medal with 1 oak leaf cluster
Air Force Commendation Medal with 4 oak leaf clusters
Army Commendation Medal
Joint Service Achievement Medal
Air Force Achievement Medal
EFFECTIVE DATES OF PROMOTION
Second Lieutenant June 28, 2002
First Lieutenant June 28, 2004
Captain June 28, 2006
Major September 1, 2012
Lieutenant Colonel June 1, 2017
Colonel, July 1, 2023
MSgt Alison McMahon Biography
Master Sergeant Alison A. McMahon is retiring from the Cyberspace Capabilities Center (CCC), a direct reporting unit to Air Combat Command, at Scott Air Force Base, Illinois. The CCC serves as the Air Force's front door for cyber & information technology requirements. In collaboration with Headquarters Air Combat Command, 16th Air Force and the Air Force Life Cycle Management Center, the CCC provides data-driven, decision-quality information and technical expertise required to design, develop and deploy air, space and cyberspace systems and capabilities into the cyberspace domain. Utilizing innovative industry standard framework, Information Technology Service Management and, the Center integrates new cyber capabilities to today and tomorrow's warfighters.
Master Sergeant McMahon entered the Air Force in July 2003 through the Delayed Enlistment Program from Raleigh, North Carolina. She completed technical training as Technical Control Systems apprentice in April 2004, and has held a variety of positions within the Communications career-field and beyond. Most recently, she was the Superintendent for the Standardization and Innovation directorate, CCC. Sergeant McMahon is married to MSgt Sean McMahon; together they have three cats, Cinders, 12, Ruby, 4 and Bruce, 3.
EDUCATION
Airman Leadership School, RAF Feltwell, United Kingdom, 2008
Associates Degree, Electronics Systems Technology, Community College of the Air Force, Montgomery, Ala., 2011
Noncommissioned Officer Academy, Distinguished Graduate, Knoxville, Tenn., 2013
Bachelors of Science, Strategic Leadership, Magna Cum Laude, Southwestern Kansas College, Winsfield, Kans., 2022
ASSIGNMENTS
Mar 2004 – May 2005 – Systems Control Technician, 39th Ccommunications Squadron, Incirlik AB, Turkey
May 2005 – March 2009 – Network Management Journeyman, 48th CS, RAF Lakenheath, United Kingdom
2a. September 2006 – February 2007 – Manager, RIPRNET Regional Maintenance, Combined Air Operations Center, Al Udeid AB, Qatar
March 2009 – July 2009 – Executive Assistant to the Command Chief, 48th FW, RAF Lakenheath, United Kingdom
July 2009 – July 2010 – Cyber Transport Craftsman and Unit Training Manager, 8th CS , Kunsan AB, South Korea
July 2010 – July 2012 – Cyber Transport Systems Supervisor, 54th Combat Communicatoins Squadron, Robins AFB, Georgia
July 2012 – September 2014 – NCOIC, Plans and Resources, 5th Combat Communications Group, Robins AFB, Georgia
6a. October 2013 – April 2014 – NCOIC, Cyber Transport Control Center, 380th CS, Al Dhafra AB, United Arab Emirates
September 2014 – October 2015 – NCOIC, Network Management, 8th CS, Kunsan AB, South Korea
October 2015 – October 2018 – Section Chief, Cyber Transport Systems, 31th CS, Aviano AB, Italy
October 2018 – November 2019 – Manager, Air Force IT Asset Management Policy and Guidance, 38th Cyberspace Readiness Squadron, Scott AFB, Illinois
November 2019 – November 2020 – Manager, Air Force IT Service Management, HQ CCCC, Scott AFB, Illinois
November 2020 – November 2021 – Installation Exercise Program Manager, 375th Air Mobility Wing, Scott AFB, Illinois
June 2021 – October 2021 – Section Chief, Cyber Transport Systems, 380th CS, Al Dhafra AB, United Arab Emirates
November 2021 – present – Superintendent, Innovations and Standards Directorate, HQ CCC, Scott AFB, Illinois
MAJOR AWARDS AND DECORATIONS
Meritorious Service Medal, two oak leaf clusters
Air and Space Commendation Medal, four oak leaf clusters
Air and Space Achievement Medals, two oak leaf clusters
National Defense Service Medal
Global War on Terrorism Expeditionary Medal
Korean Defense Service Medal
Armed Forces Service Medal
Nuclear Deterrence Operations Service Medal
Small Arms Expert Marksmanship Ribbon, one service star
EFFECTIVE DATES OF PROMOTION
A Little More About MSgt McMahon
The Air Force has been a part of my family since the 1950s. My Grandpa Joe went to Tech School at Keesler, ultimately becoming an instructor at the Electronics Schoolhouse. He also invented the wire wrap terminal! My Aunt Jamie also served in the Air Force as a medic.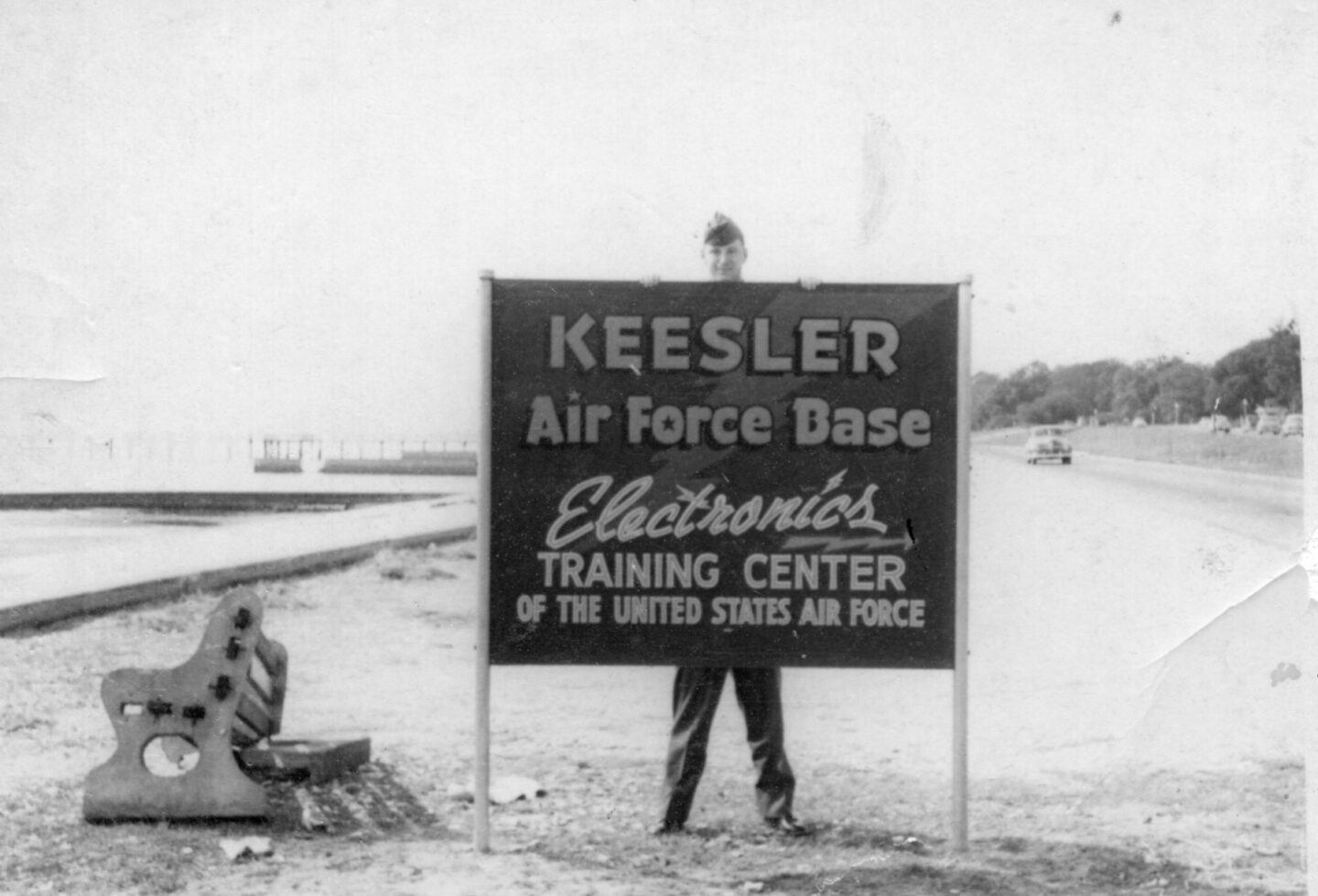 Despite Grandpa Joe's Electronics prowess, I didn't know the difference between a bit and a byte before I joined the Air Force.
Throughout High School, I was a proud Airman in the Civil Air Patrol. My brother enlisted a year before me in 2002.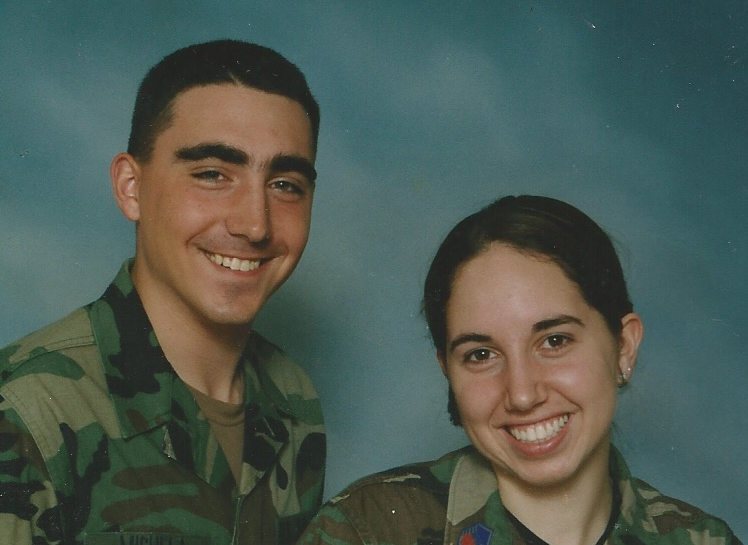 I enlisted Air Force through the Delayed Enlistment program when I was 17 years old from Raleigh, North Carolina. Here is my obligatory Basic Training photograph: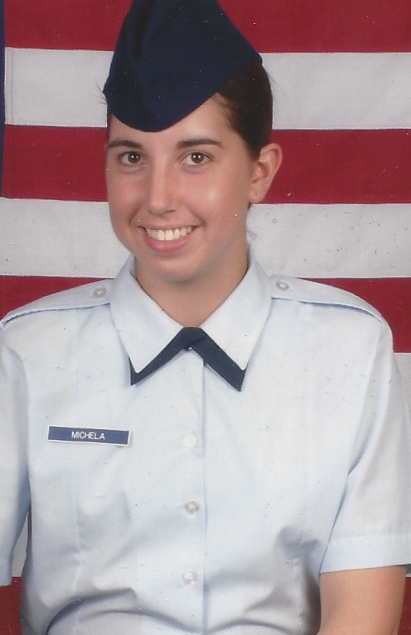 I was on the Base Honor Guard at my first duty station. Conversely, I also briefly visited Turkish prison.
The first day as a Staff Sergeant, I reported to the office of the 48th Fighter Wing's Command Chief for duty as his Executive Assistant. It was one of my favorite jobs in the Air Force.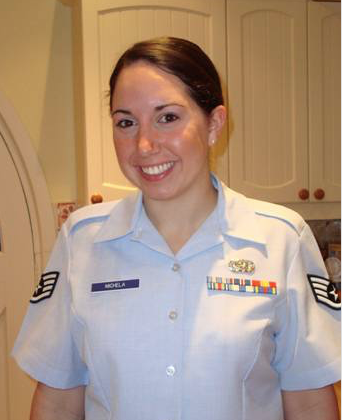 At Kunsan, I was pulled to be the training manager during the first Communications career field manager in 2009, immediately preceding a Unit Effectiveness Inspection. All my and the team's hard work paid off and there were zero write-ups across the entire training program for the 8th Communications Squadron!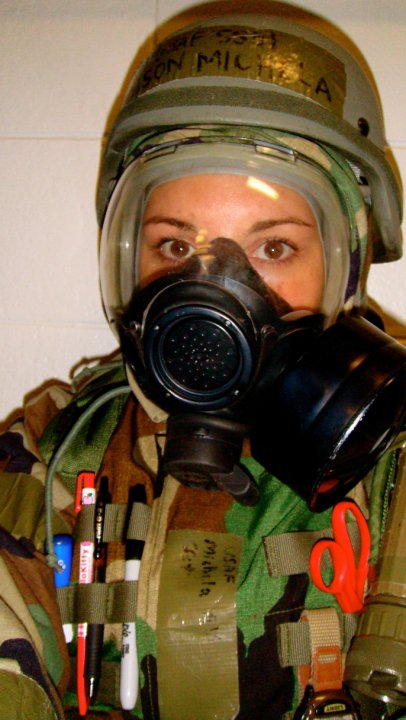 Between Readiness Exercises, I was bit by a Military Working Dog which broke the tip of my finger. It took many years for me to want to be near the working dogs again.
At Robins, I was the first female to complete the LINE Combatives course at the 5th Combat Communications Group and was an instructor for a year.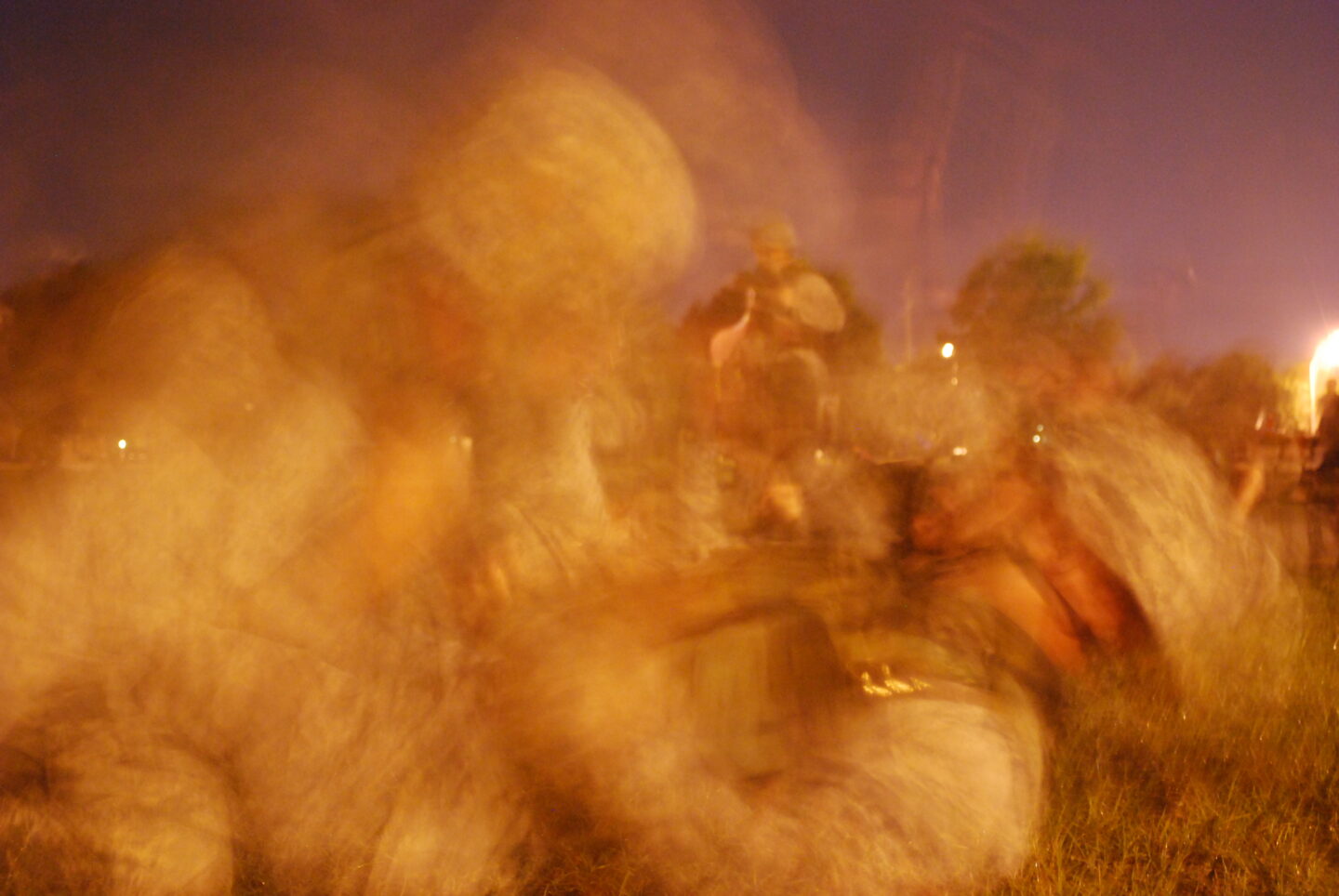 From Robins, I deployed for a second time, this time to Al Dhafra. It was a great deployment! I saw Coolio in concert on base and Santana in Dubai!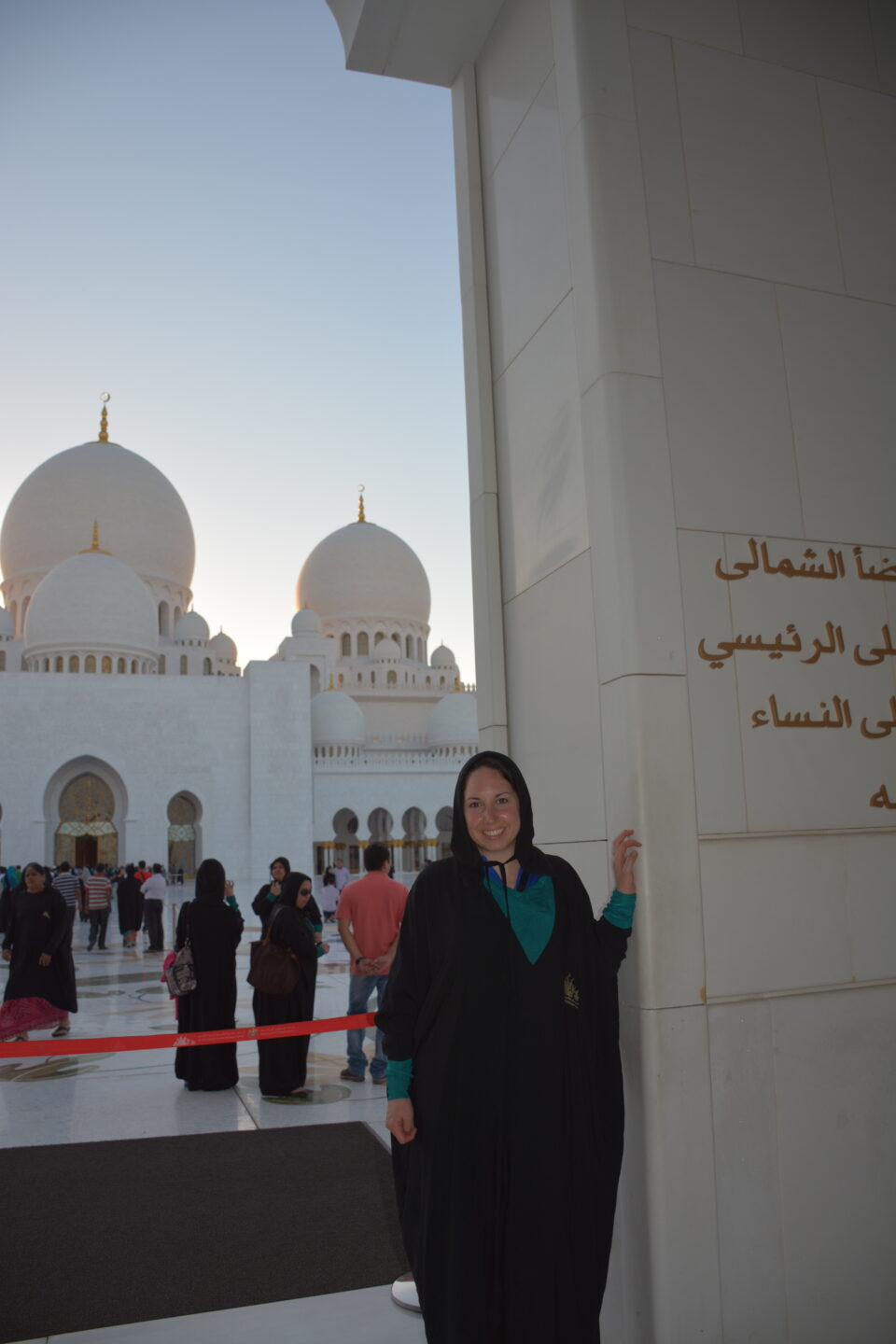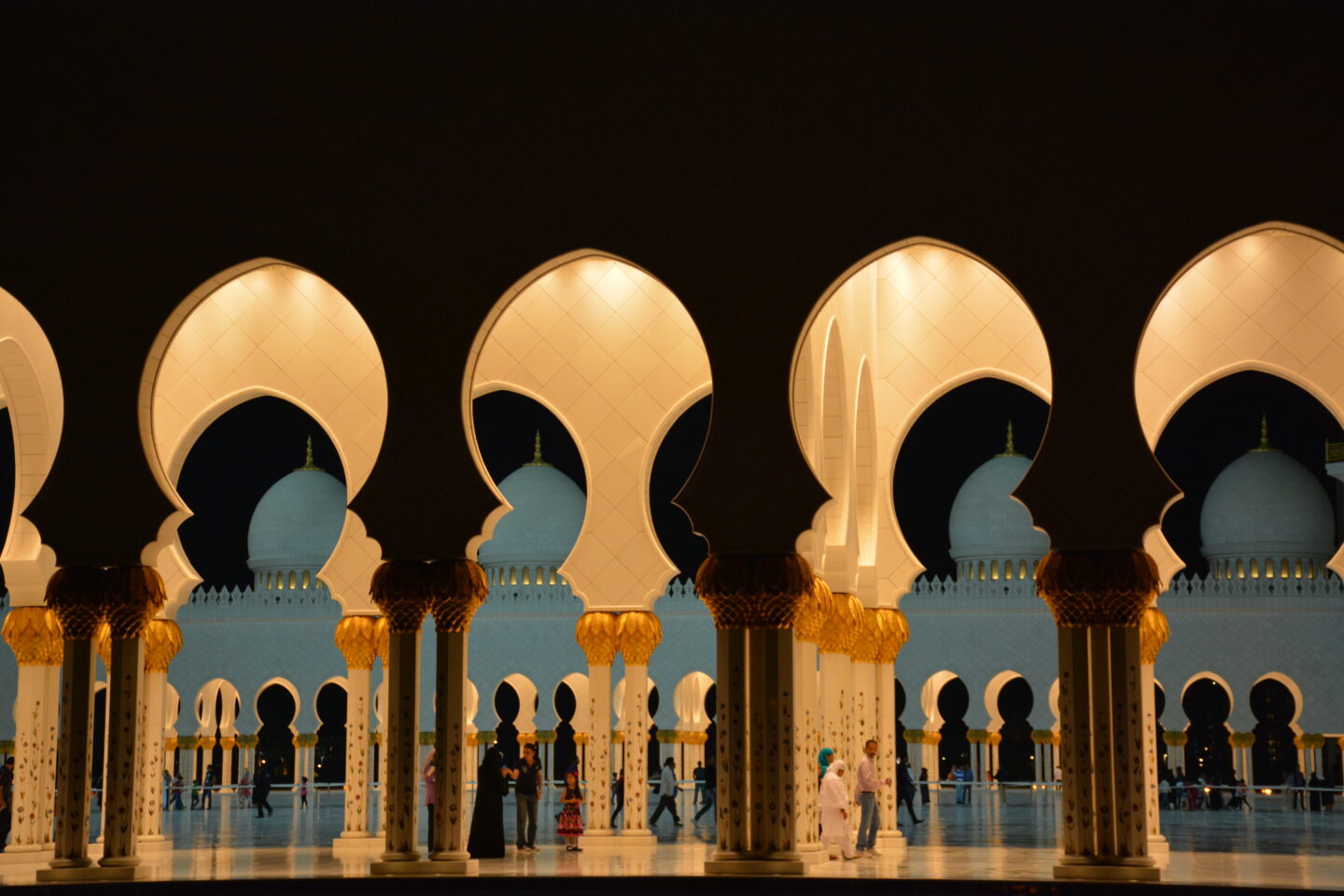 I also learned that nobody is impervious to IT issues, not even Coolio.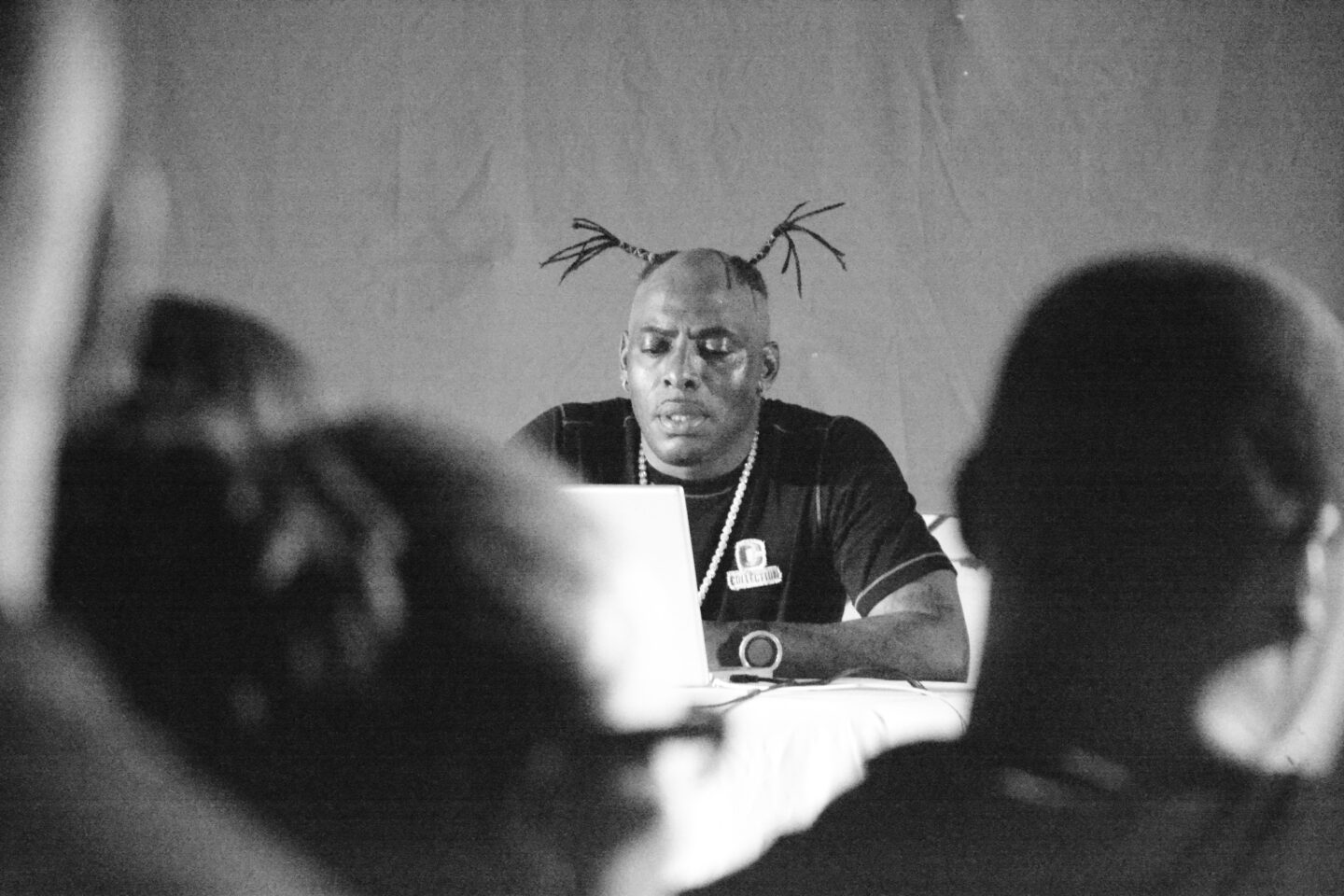 Throughout my entire career, I can honestly say I LOVE celebrating promotions and achievements!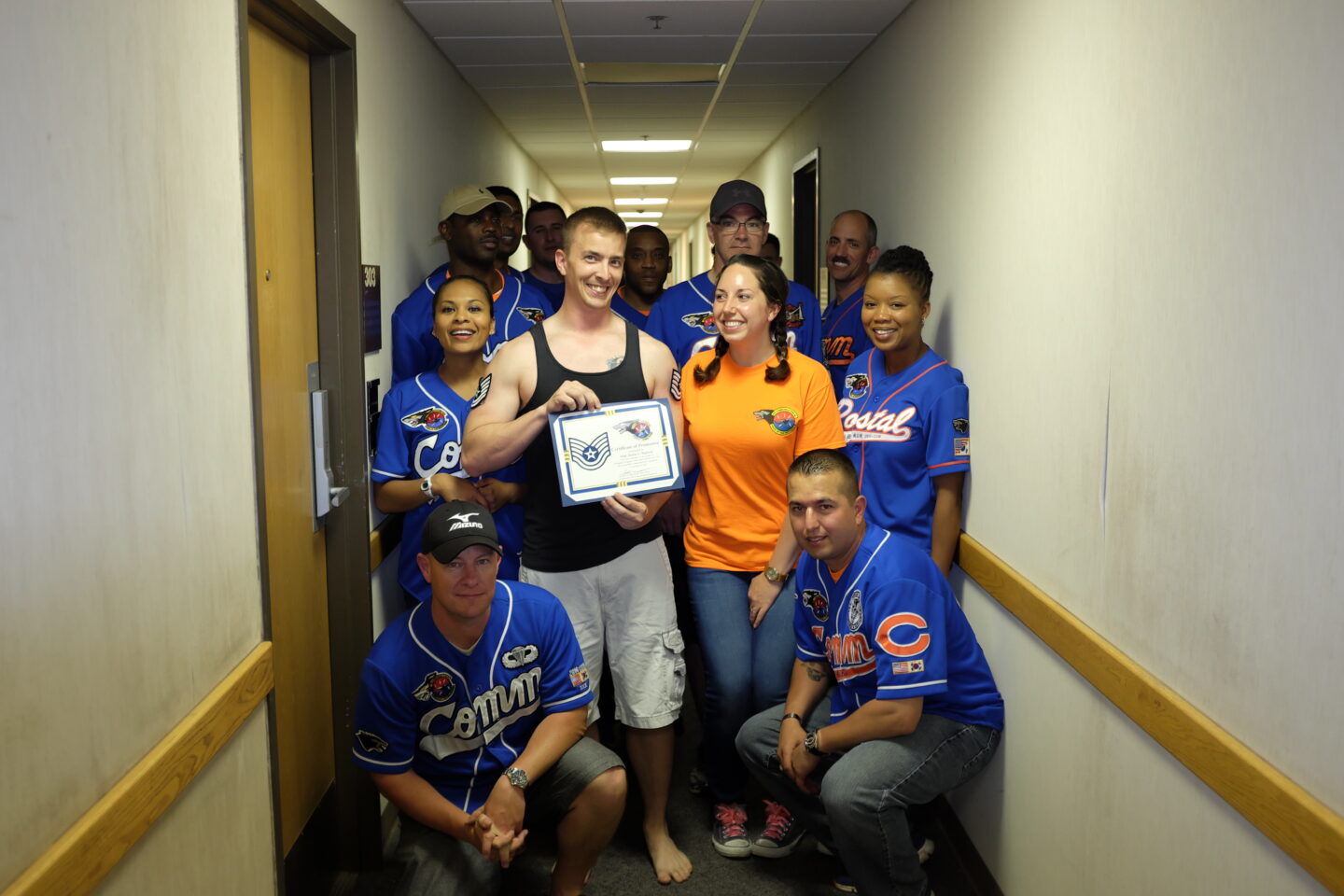 The first time I felt like a Real NCO was when I was the Noncommissioned Officer In Charge (NCOIC) at Kunsan AB, South Korea. Now-Colonel Metzler was my Commander and helped me find my confidence.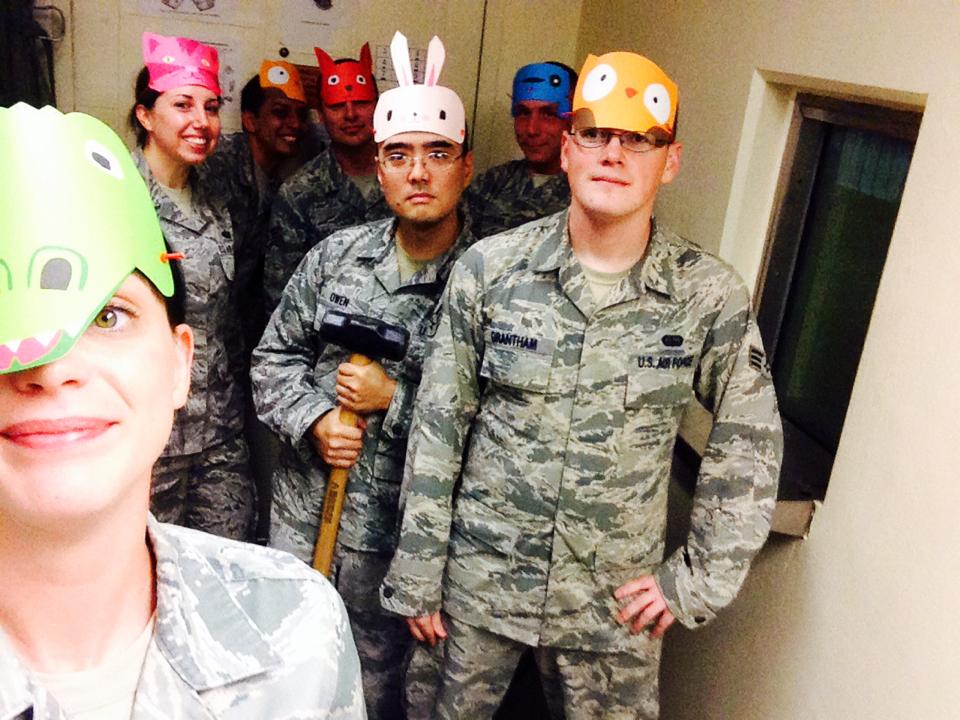 These are The Cyber Kitties aka Network Management Team seeing me to the bus on my last day.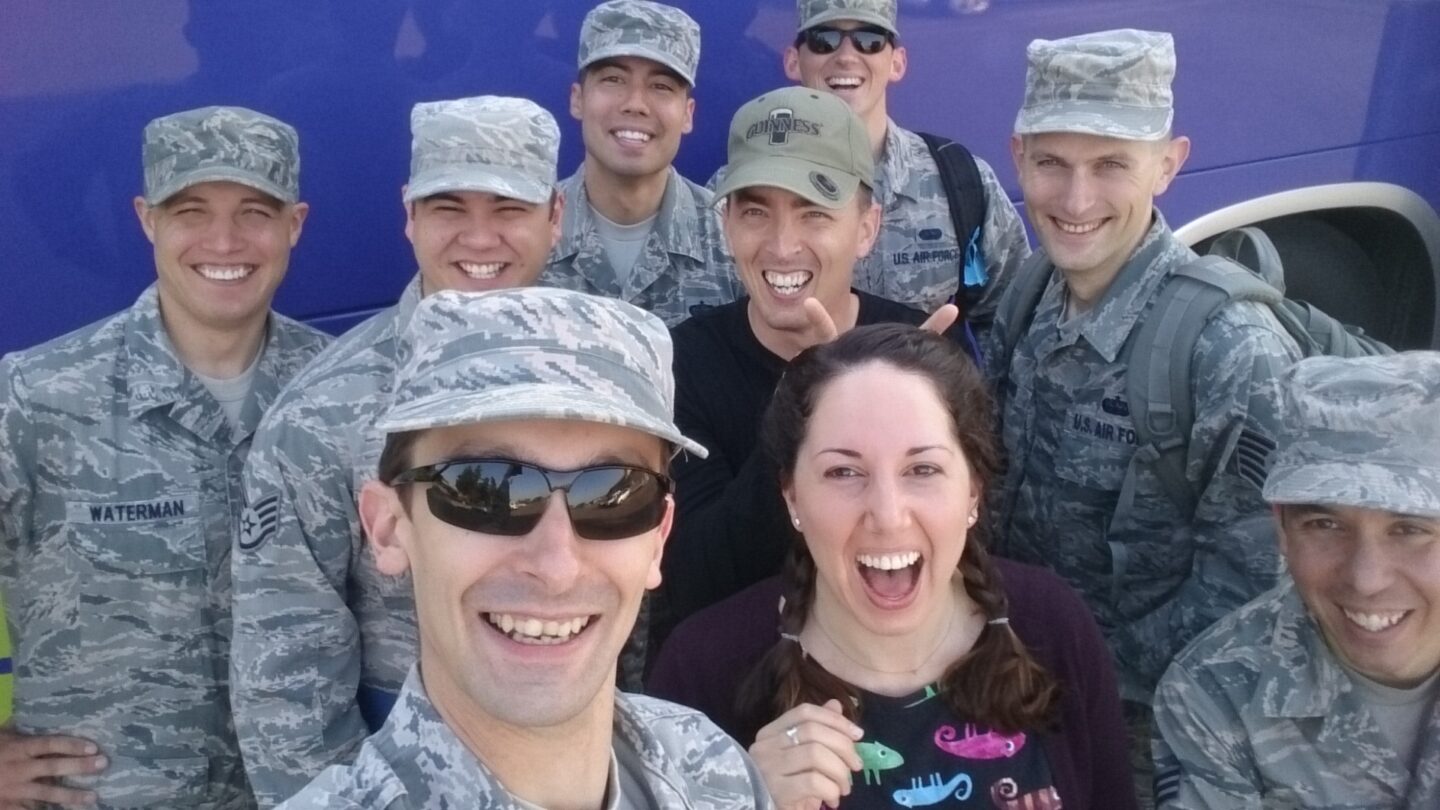 I enjoy building cables. People called me The Terminator. No, they didn't…but at the time, I wish they did.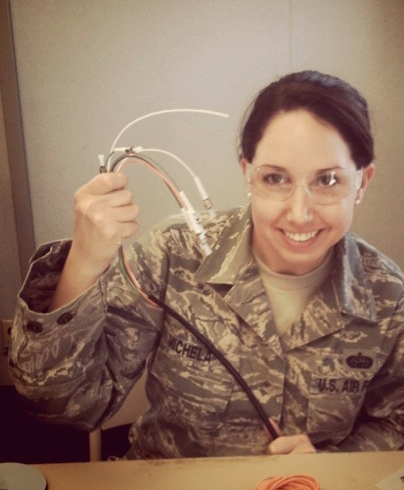 Italy was an incredible assignment, but it was obscenely busy. I held a number of positions in the Communications Squadron, from Project Management NCOIC to Cyber Security to the Section Chief of the Commander's Support Staff. I met a lot of incredible people, though, and lots of friends and family came to visit us overseas!
I've lost a number of friends throughout my career and my own trials and tribulations inspired me to become a Master Resiliency Trainer in 2016. It has been my favorite and the most meaningful Air Force Program to be a part of.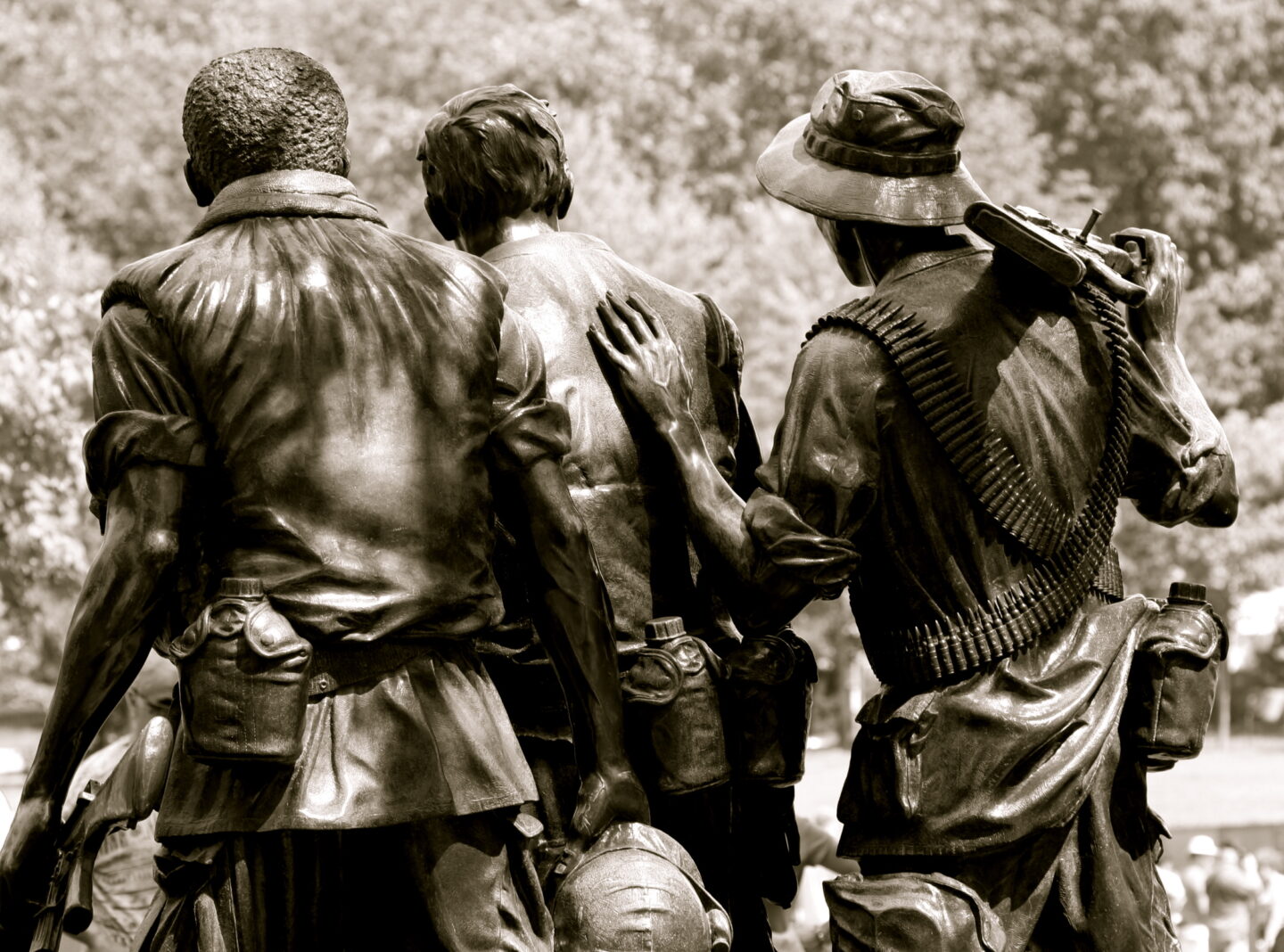 Finally, we arrived at Scott Air Force Base. In addition to the Cyberspace Readiness Squadron and Headquarters Cyberspace Capabilities Center, I was a part of the Wing Inspector General team.
This picture is from my last deployment in 2021. I was finally "ready" to be near the dogs again.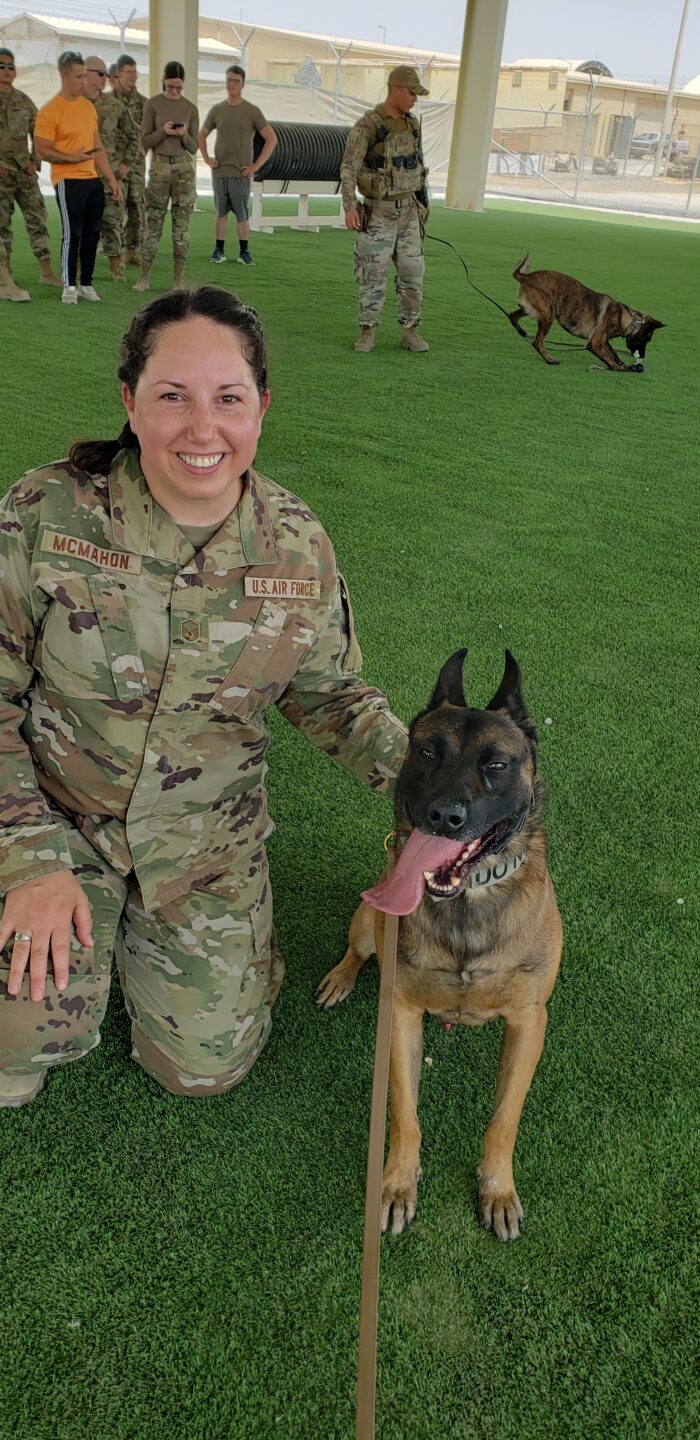 Somewhere along the way I met the Easter Bunny.
Honestly, most of my "pictures in uniform" look like this because I probably sent it to my Mom: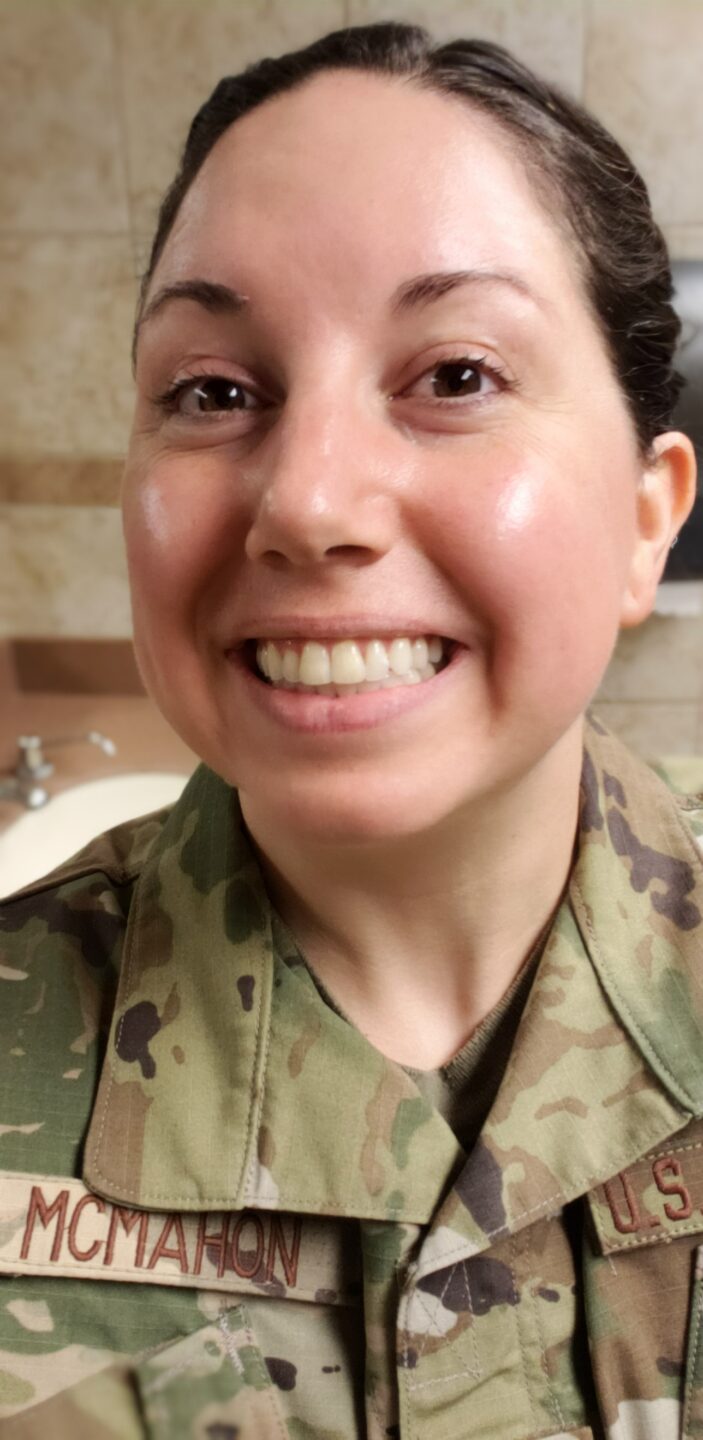 I met Sean in 2010, and we have been best friends (more or less) for 13 of my 20 years in the Air Force!
Sean and I have spent 7 of our 10 Anniversaries apart because of military service.
This is Sean's return after our deployments while married. We deployed concurrently, three months off-set, to different locations in the Middle East.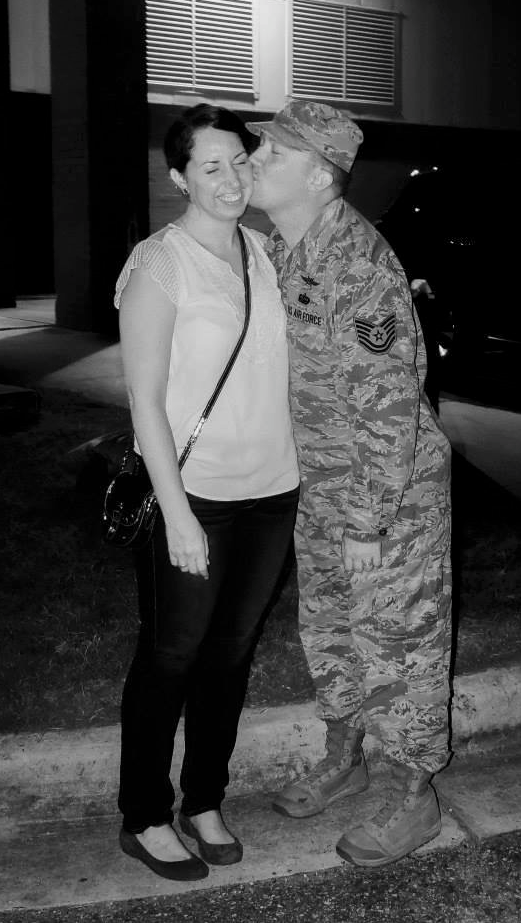 This is my last deployment departure in 2021.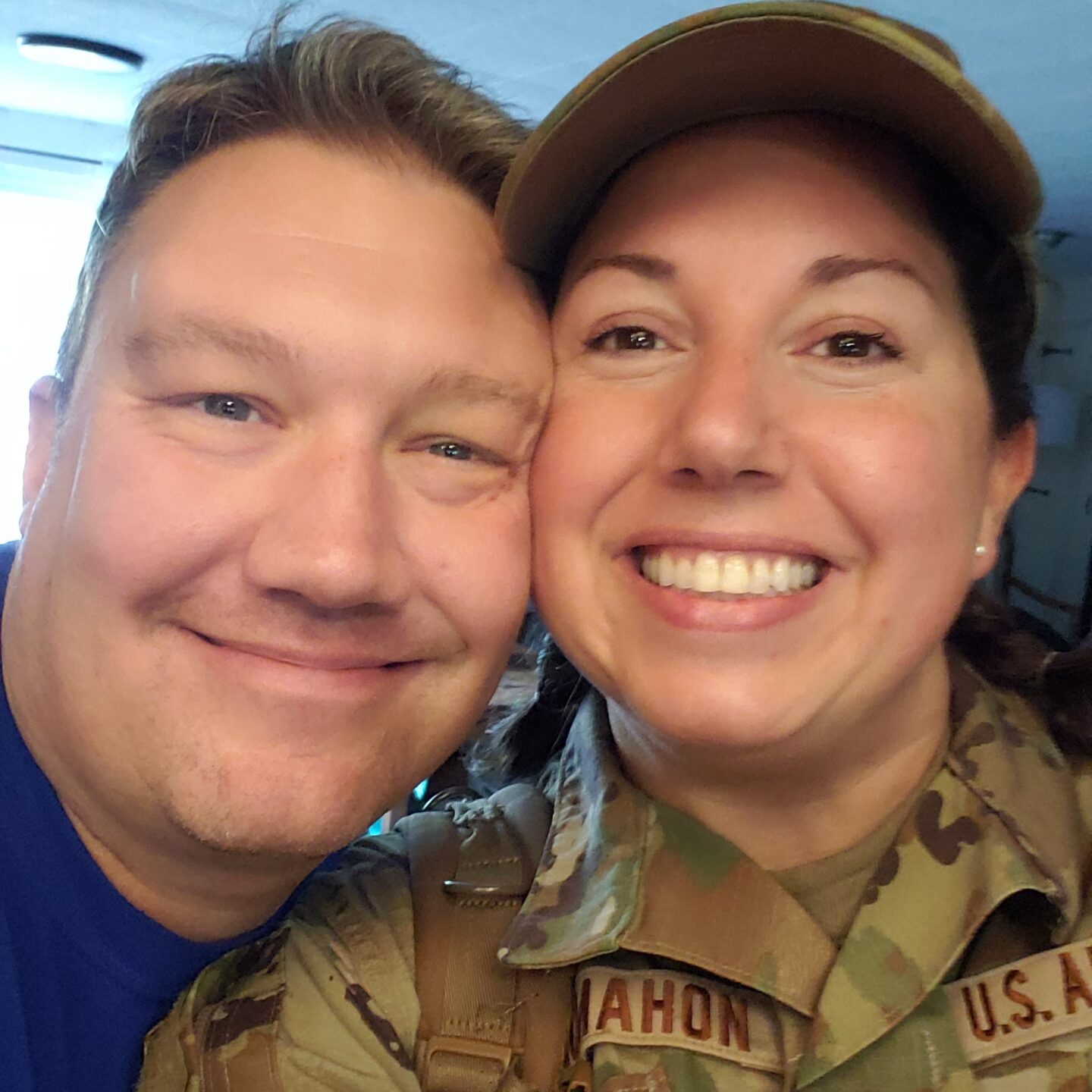 Even before COVID, a lot of our milestones were celebrated together-apart. We both deployed during COVID-era restrictions.

But we've enjoyed being a mil-to-mil couple.  It's a unique demographic that we have navigated together. Interestingly, we promoted to Technical Sergeant and Master Sergeant on the same day!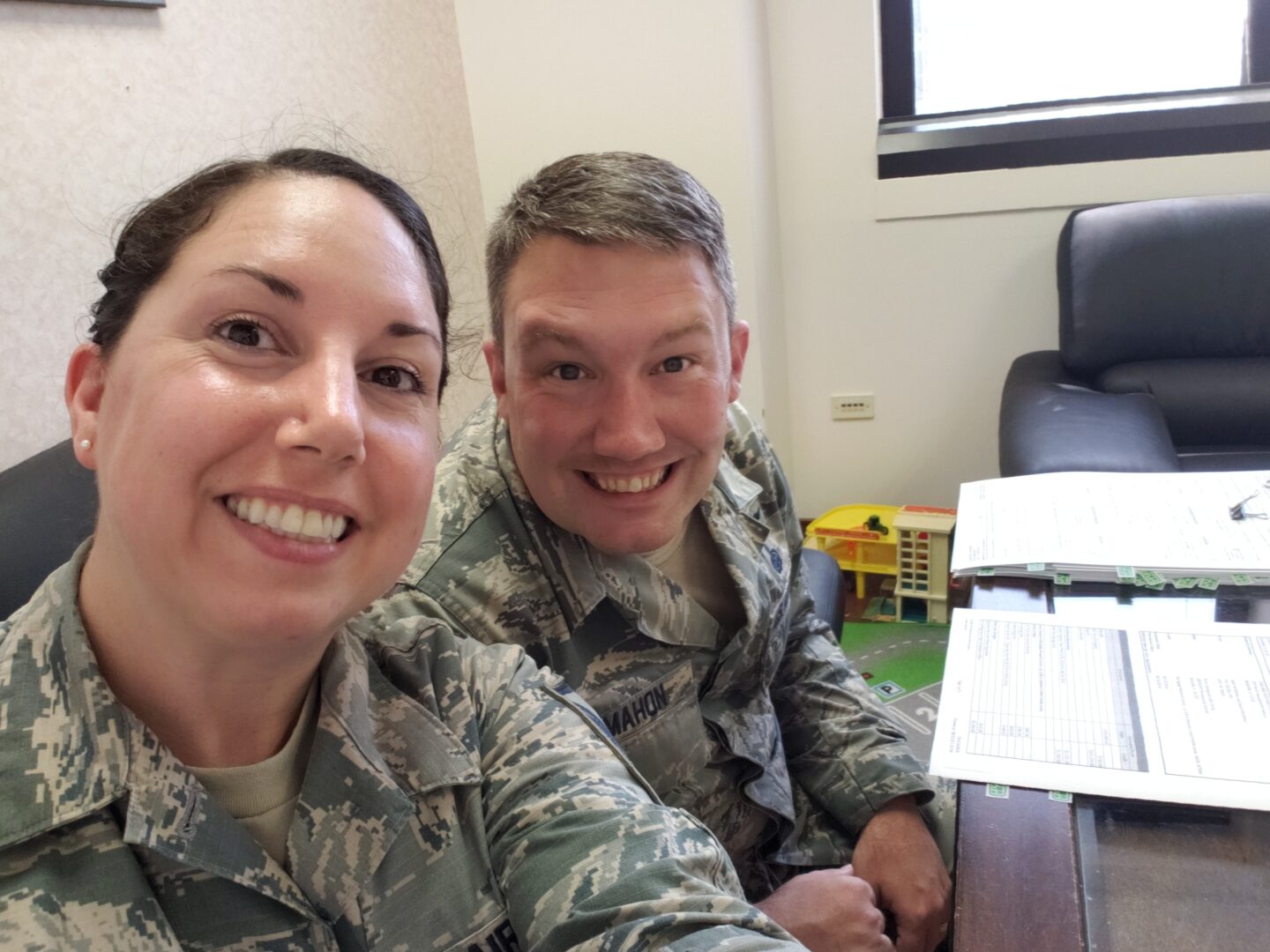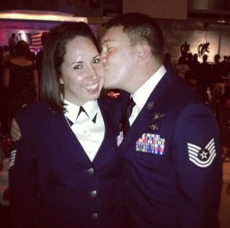 Because of the Air Force, I've been able to explore far and wide.
I've played in Byzantine Castles across Turkey, had gelato at the Coliseum and lazily watched the confident ray of light from the Pantheon's oculus dance down proud columns and across marble floors in Rome. I've laughed while watching my best friend be pursued by a man on a camel incessantly propose marriage to her at the Pyramids in Egypt, and wandered the Forbidden Temple in China on a sunny afternoon.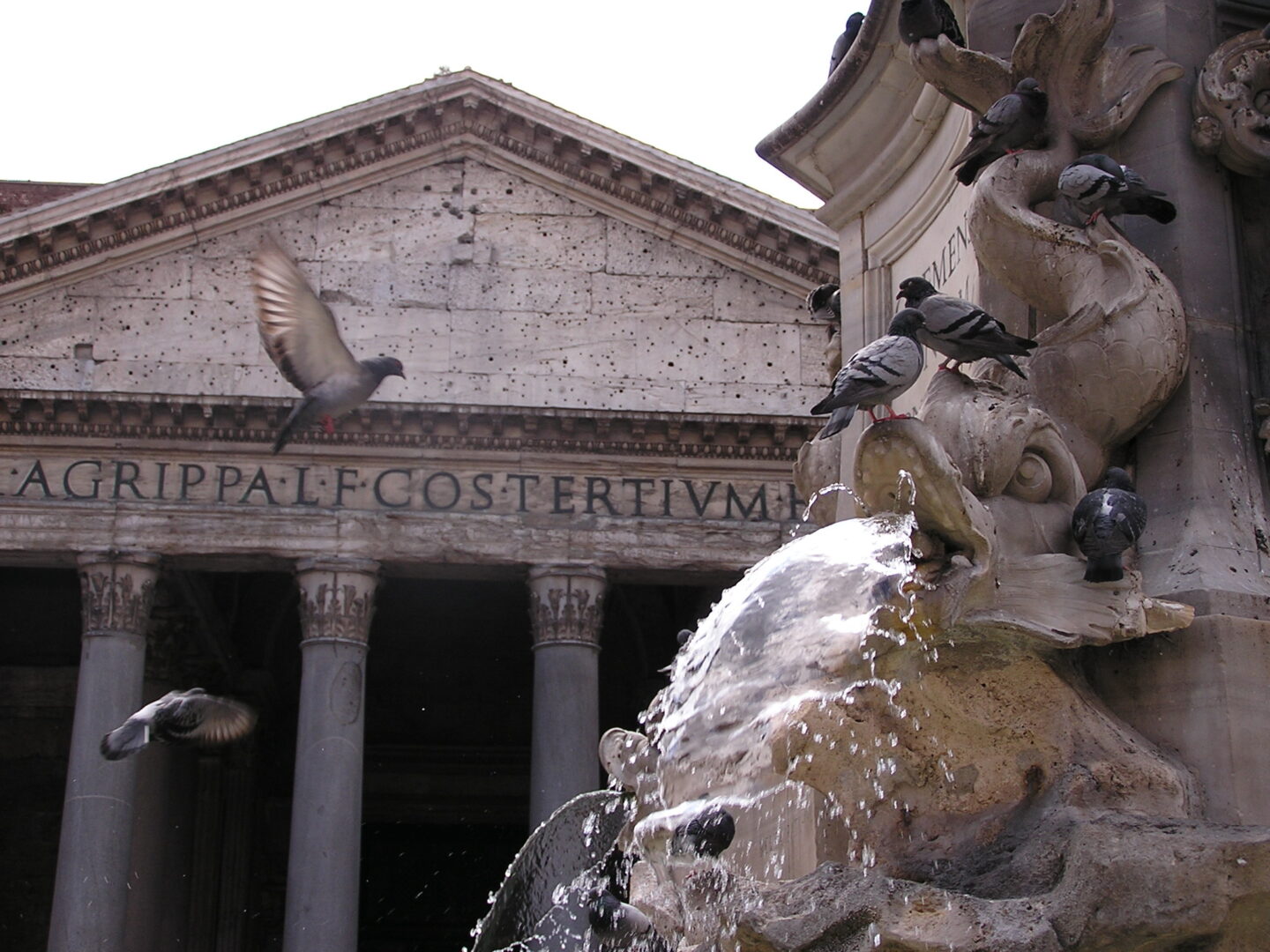 My first passport stamp was a weekend trip to Paris when I was 19. It won't be my last.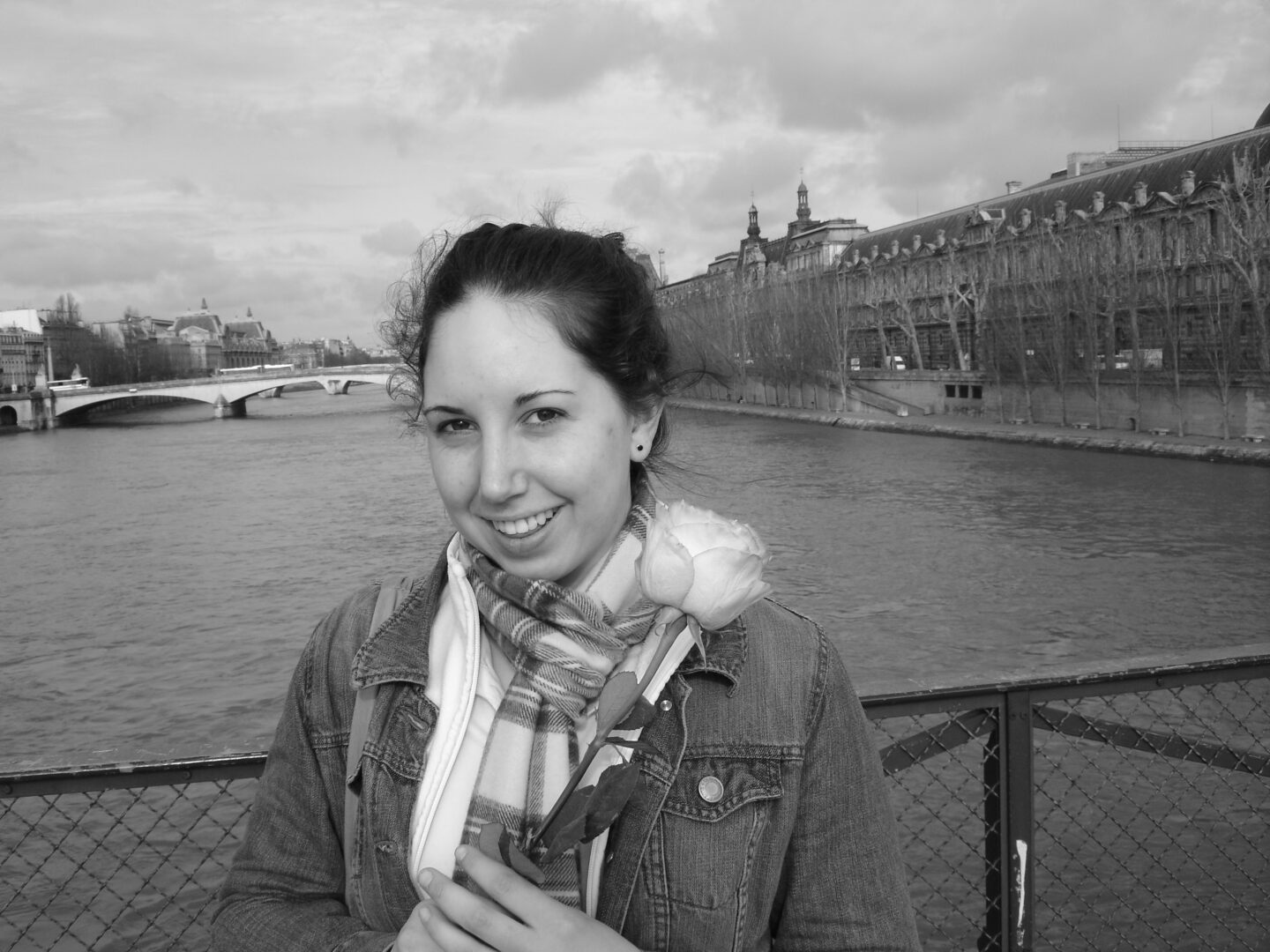 I LOVE Caves and have visited various ice caves, gigantic caves, lava tubes in the USA, Austria, Slovenia, Croatia, Italy, and South Korea.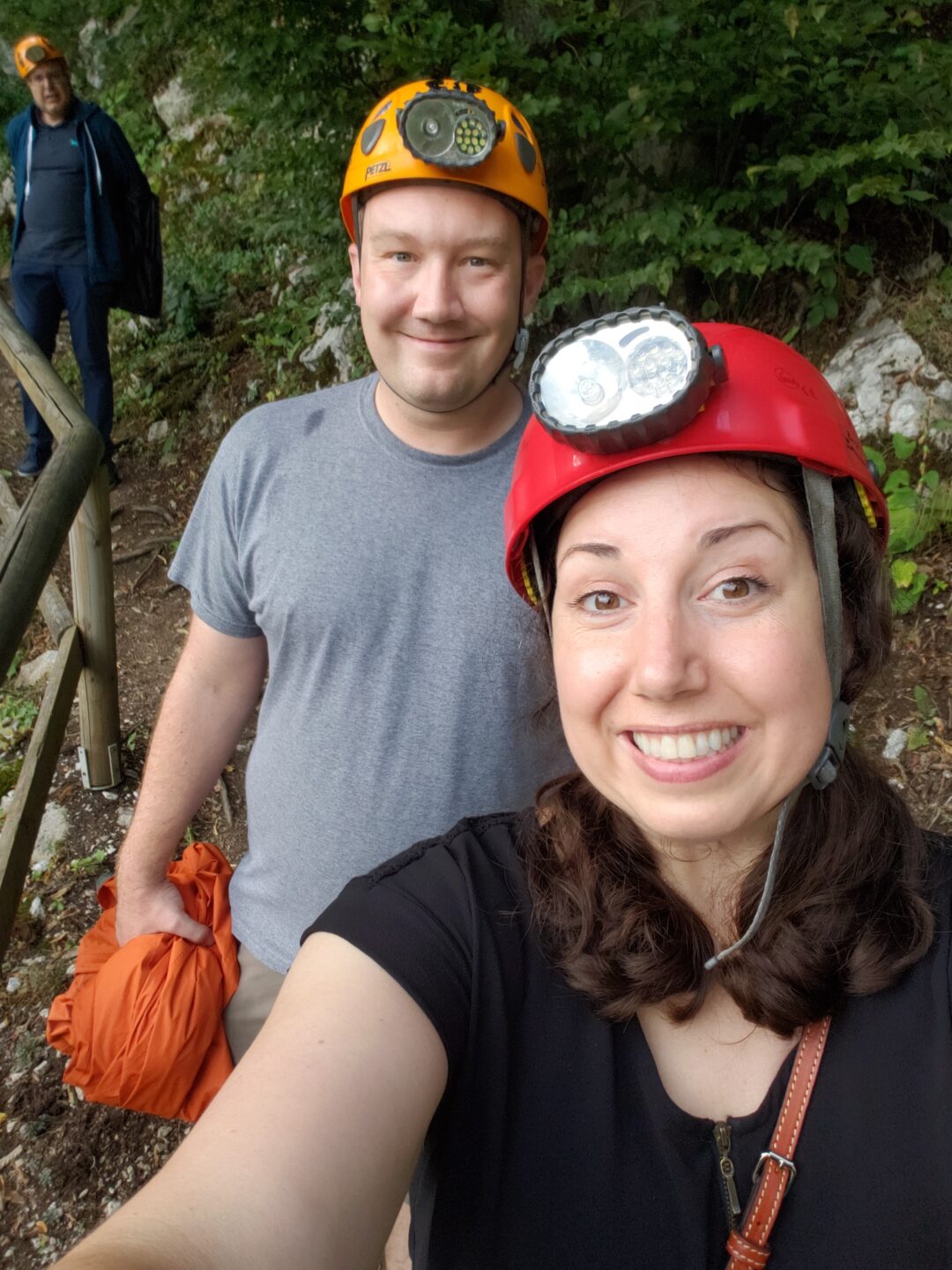 Because of the Air Force, I was afforded the opportunity to cultivate my independence and sense of adventure.
I learned my favorite mountain range is the Salzkammergut Mountains in Austria. For my birthday one year while Sean was deployed, my mom and I spent the night at an outpost atop Mount Schwemmerkogel; it snowed in June.
Between our assignments in Italy and Illinois, we walked across England in six days.
We were almost murdered by cows. I'm not kidding.
Sean and I have traveled far and wide together.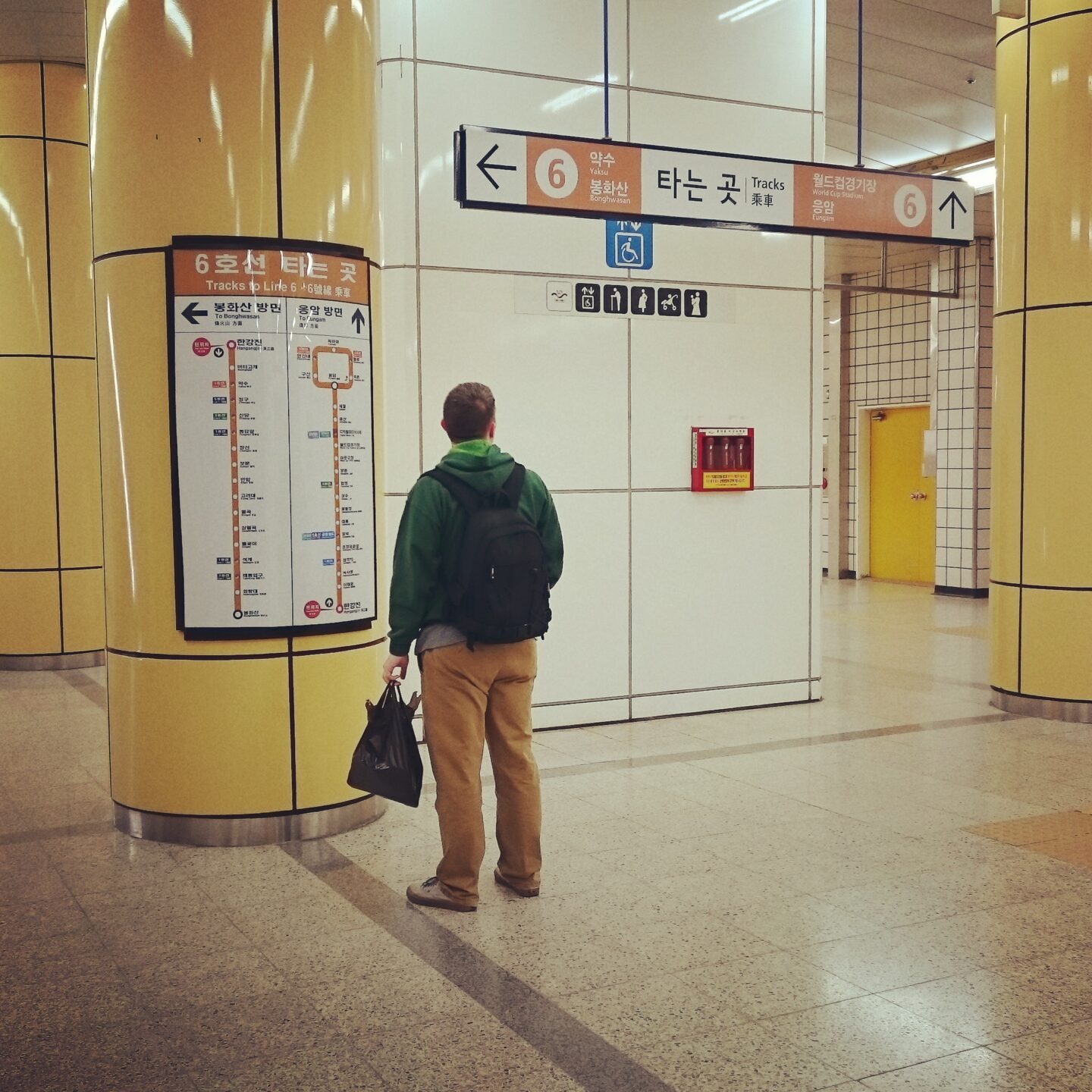 We don't always have a plan, but we do always have fun!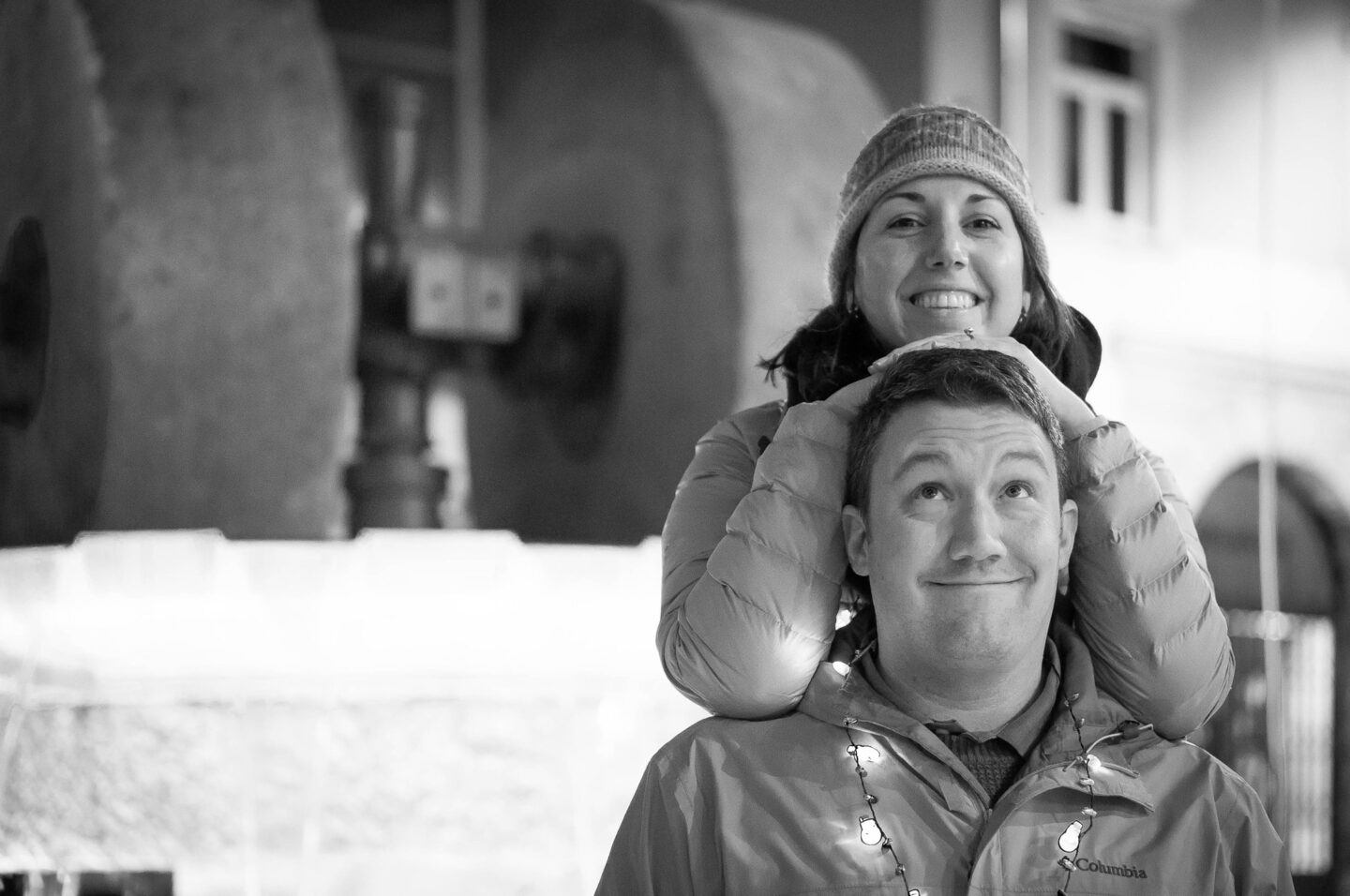 Sean and I were friends for 3 years before we started officially dating. Here is a picture we took on our first "non-date" day trip together circa July 2010: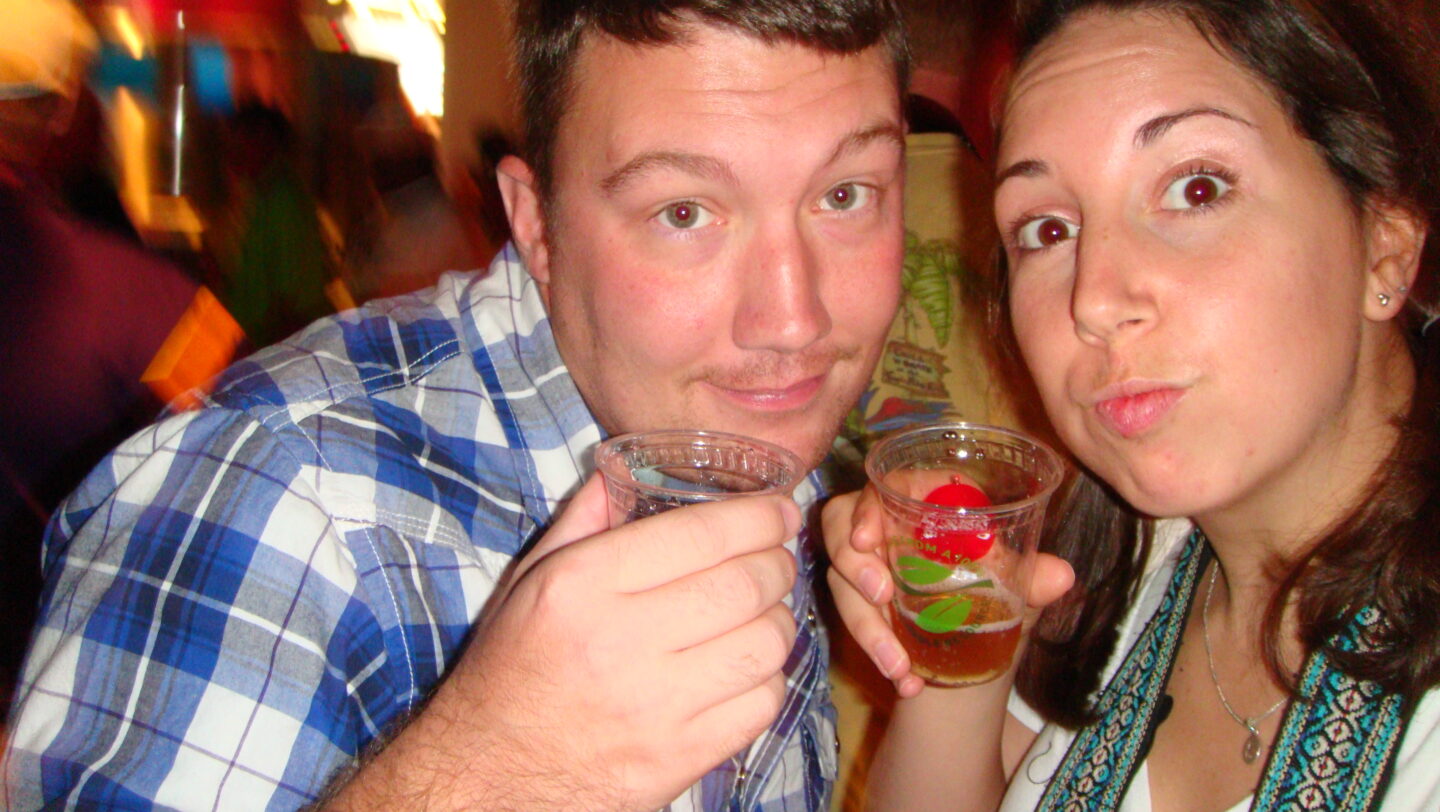 We dated for 6 months, and were engaged for 3 weeks before getting married. This May, we celebrated our 10-year anniversary!
He's my favorite person in the whole universe.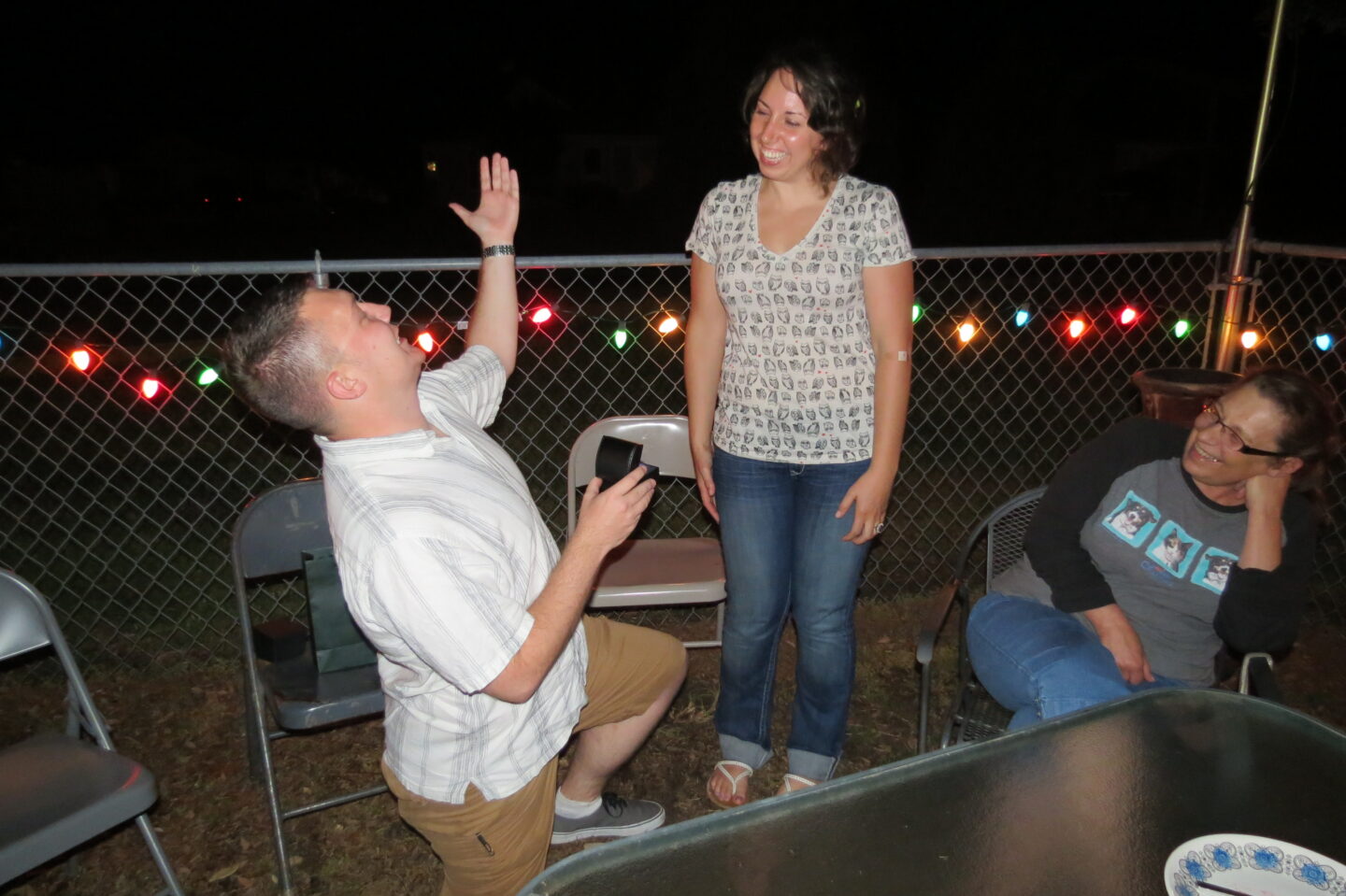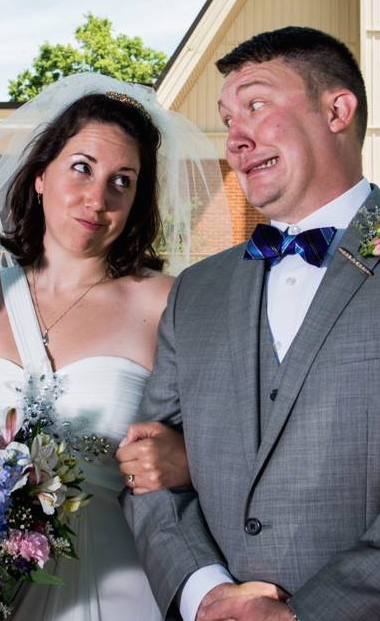 And this barely captures the excitement I felt to OFFICIALLY be a McMahon. I made it "uniform official".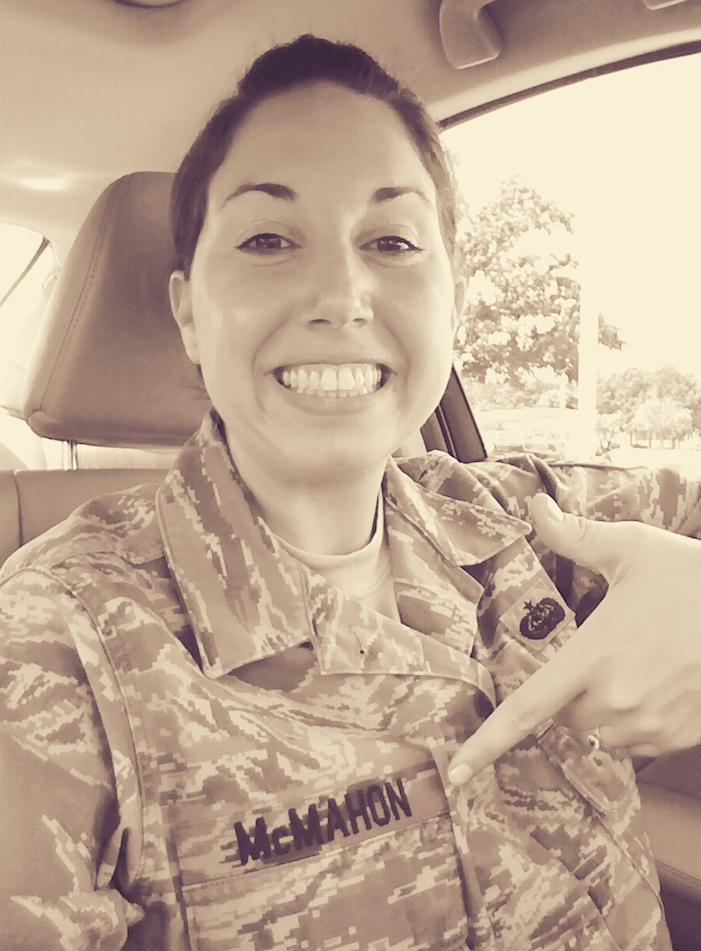 After retirement, I will be heading to Art School at SIU Edwardsville! Classes start in August and my goal is to graduate with my Masters in Fine Art in 2026! I'm not sure what my focus will be, but if I had to wager a guess it will be in Printing or Sculpture.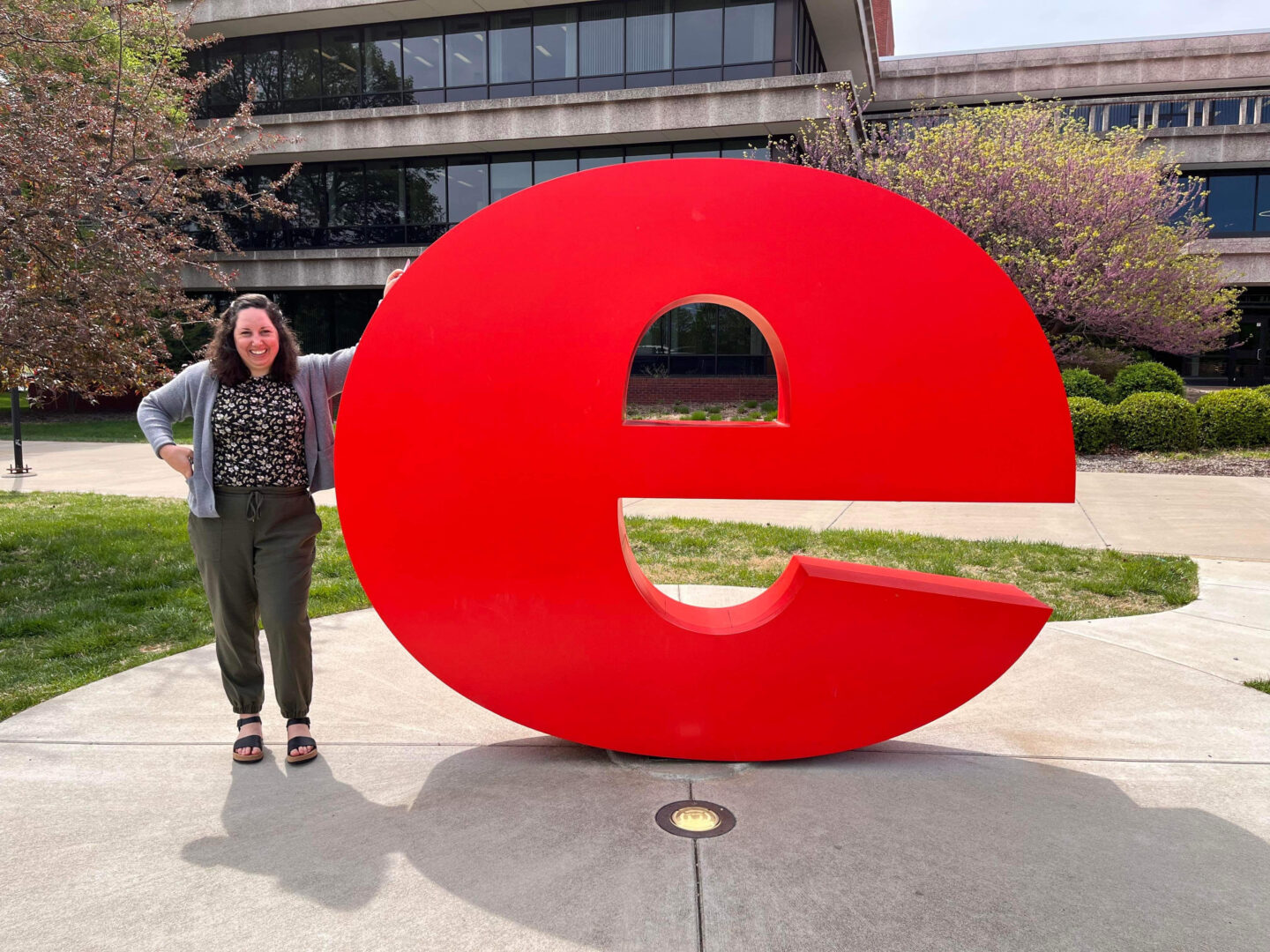 Ship it!