31 December 2021
Family Visit Near DC
So after hanging out with some amazing small humans I decided to get up early and head out to a park. Strangely the DC area doesn't have a ton of CW activators so I decided to bump those numbers up a bit. I didn't end up bumping them up quite as much as I thought I would but still better than before.
National Capitol Parks
K-6054 seems to be a bit of a catch all for all the random other parks in the DC region. It also says it's in both Maryland and DC, but that depends on the park your in. The dot on the pota.app site is actually in Anacostia Park but National Capitol Parks is 13 different parks as of this writing. So do your research if you're not from the area.
A fellow STL area ham Kyle AA0Z did a great YouTube video on POTA and the DC area. Check it out for a ton of great information.
Pleasant Surprise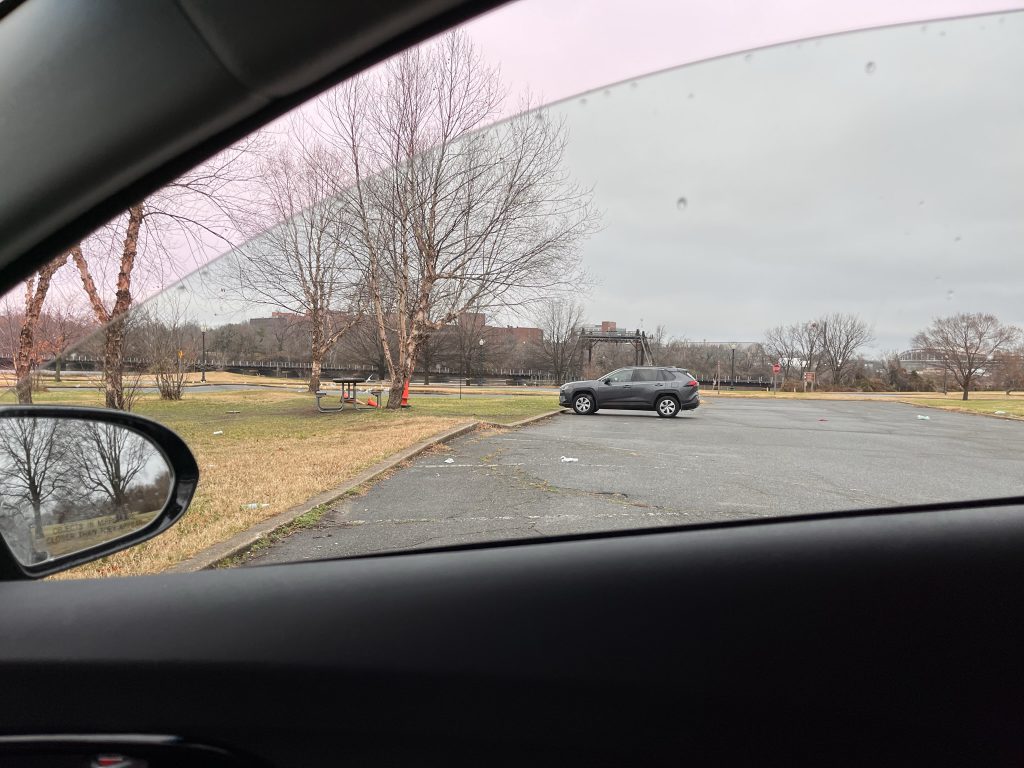 So I cruise through Anacostia park looking for a good spot to setup. I find a place that looks nice and I park to eat my breakfast before getting on the air. While I'm eating I notice what looks like an antenna in a tree near the car next to me. I check the spots and this is what I see…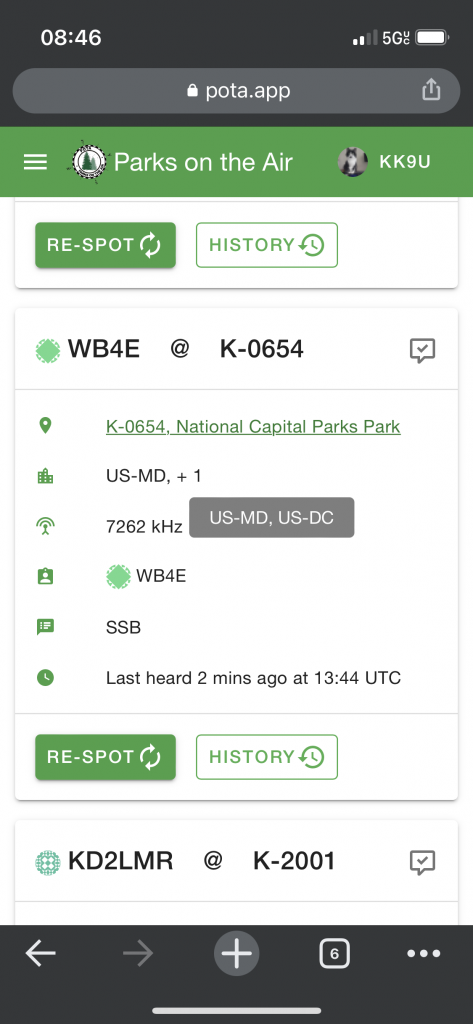 Hey that's where I'm at! I walked over and he was deep in a pileup so I gave him an eyeball qsl card and told him I'd setup on the other side. After Hal WB4E finished up he came over and we had a nice chat for a bit before parting ways. Neither of us had ever ran into another ham while doing POTA, Hal was also a MSgt in the Air Force, and was also visiting family in the area. How strange and cool is that! I've never made a voice contact on the IC-705 so I don't normally even bring the microphone to avoid the extra weight, but I had this time for some odd reason. That was lucky because that allowed me to make my first SSB P2P and DC contact with him!
Setup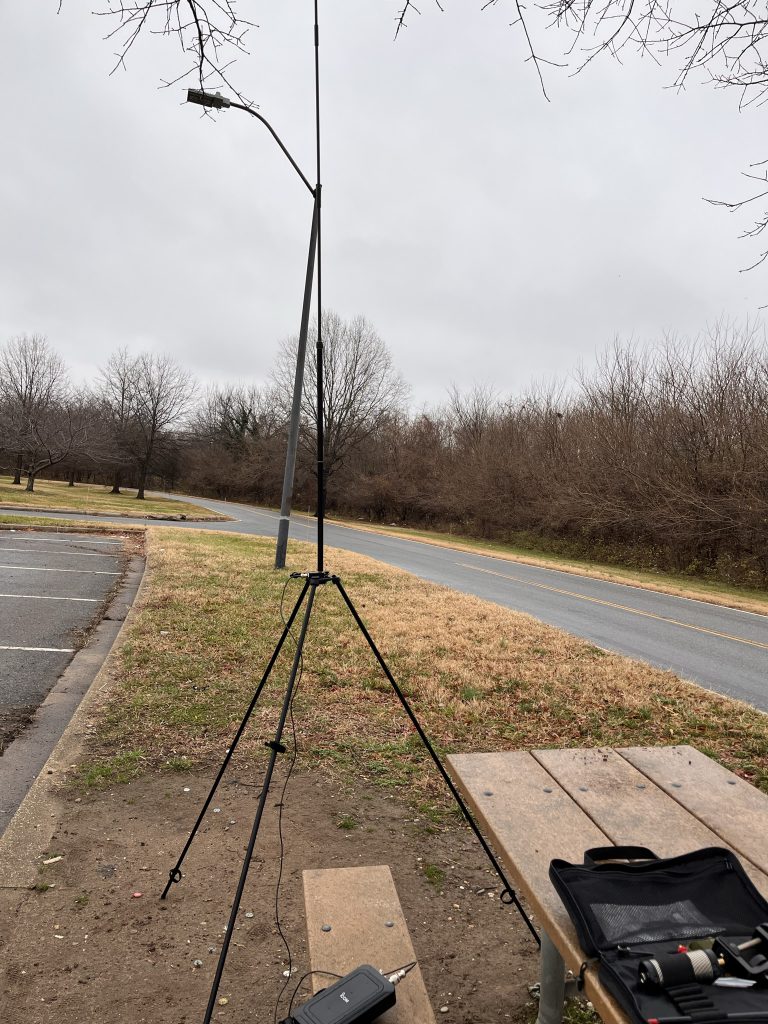 I brought the Buddistick PRO with me just in case and I'm glad I did. I didn't take the time to tune it for the band I was working and instead used the military whip with the two extensions and the Icom AH-4. This combo works, but the resonant version works better with QRP. It's a compromise of agility vs efficiency. That morning I started with 20M to work WB4E then moved to 40M for the rest of my activation. I tried out 20 and 30 but didn't get much luck for some reason. Bad timing, poor efficiency, bad propagation? Not sure but it wasn't working. The park didn't have a ton of large trees, and I've heard mixed things about throwing antenna in trees so the self supported vertical was what I could do.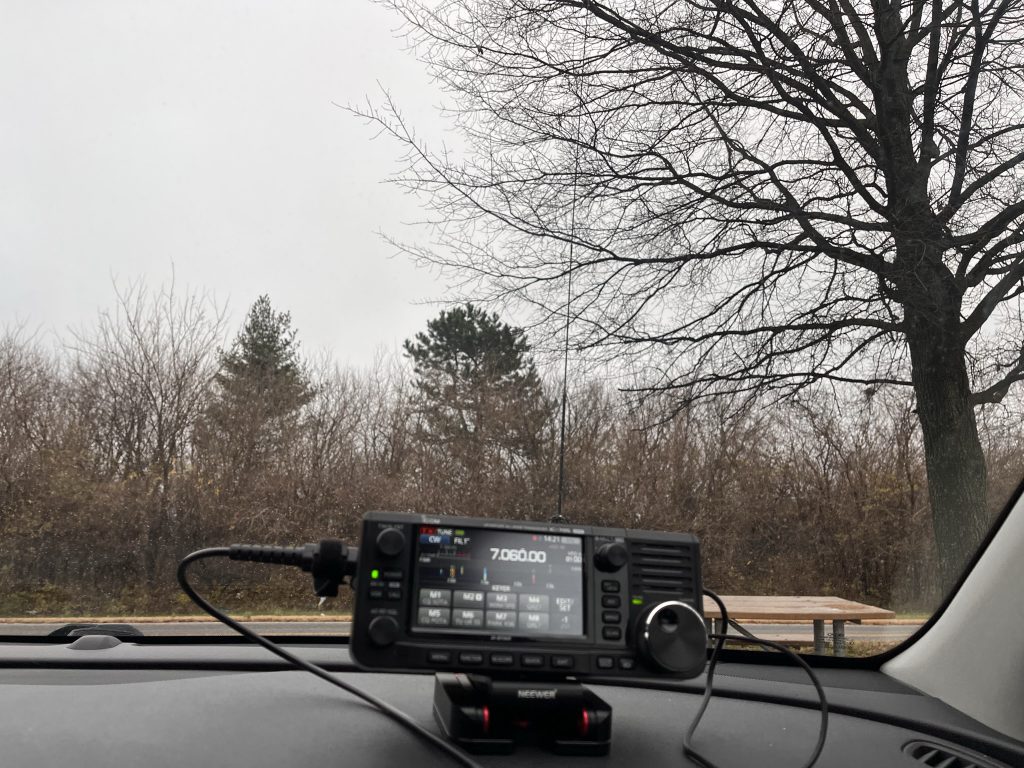 Sitting in the car kinda sucks. I really prefer being outside but it was raining and the park had a lot of interesting characters roaming around. Passenger seat CW it was. Eventually I moved from the Buddistick to a mag mount hamstick. There was no ground connection between the car and the radio so that probably didn't help. SWR was all over the place unless I was touching the ground on the radio. I'll have to figure out a better solution in the future.
Done… but Meh results
I worked up and down the east coast, but nothing overseas and nothing west of the Mississippi. I ended up with 19 in the log before it was time to pack up and grab coffee for the wife and hang out with the tiny humans again. Still ok for 5w and a stick that all fit in my backpack!
I think it was a good way to end my first year of CW and POTA!
72 – KK9U