I put together my Morseino-32 v2 today. It was very straightforward to put together. Some of the soldering was a bit tight, but as long as you have a small tip on your iron you should be fine. I pulled out the magnifying light to make it a bit easier. The instructions are on OE1WKL's GitHub site if you want to check them out.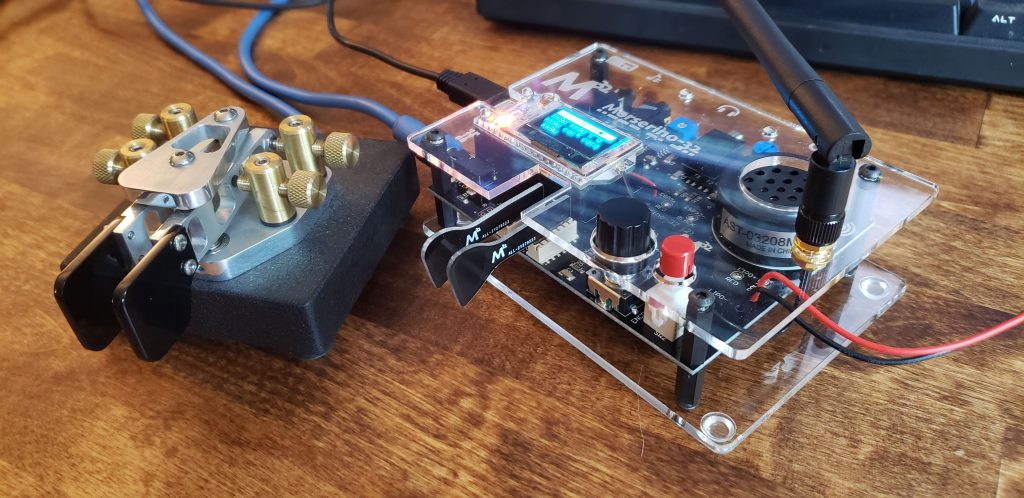 I'm currently using mine without a battery and just running it off of a random microusb power adapter I found in a box. The key jack was reversed from what I was expecting, although it was an easy fix in the menu.
Using it as a practice oscillator is about as straight forward as it gets. You power it on and click the black button to enter the keyer. From there you start pounding away and it will display the characters you sent. You can adjust the speed by turning the black knob. Press the red knob once to adjust the volume and click it again to go back to adjusting the speed. You can use the onboard paddles and a set plugged in at the same time, which would be helpful for practice with a partner. The built in finger pieces are touch sensitive and very responsive.
I briefly tried the echo and random generator functions. The generator can kick out random characters, cw abbreviations, words, call signs, a mix of all of that, or play from a text file.
There is also a Koch Trainer, cw decoder, LoRa transceiver, WiFi transceiver, and it can hook up to a transceiver to act as a keyer.
There is also the possibility of cw over the internet. You can give it the ip of another Morseino-32 and communicate directly, or hook up to one of the Morseino Chat Servers.
It's really amazing how much they have packed into this device. If you're interested I highly recommend picking one up over at the Morserino-32.info site.