20 March 2022
WWFF/SOTA/POTA
The WWFF (World Wide Flora and Fauna) Get your Park ON Spring Fling was this weekend. I hadn't made any specific activation plans, but I was in between classes (spring break wooooooooooo), the weather was looking great, and I was dying to get out and play radio. The Virginia QSO party was the same weekend so the bands should be lively. Before this I had never made a WWFF outing or submitted a log. A quick look at their map showed that many of the WWFF sites are also POTA and some SOTA sites as well. WWFF-KFF maintains a cross reference list between POTA and WWFF locations. I really wanted to get out and hike a bit so I started comparing the maps to try to find the magical trifecta of the three major portable radio programs. I really wish there was a combined map that would show all of these together.
Had to make a stop on the way at Donut Palace in Cape Girardeau. Donuts have been proven by science to improve CW copy, propagation, and happiness.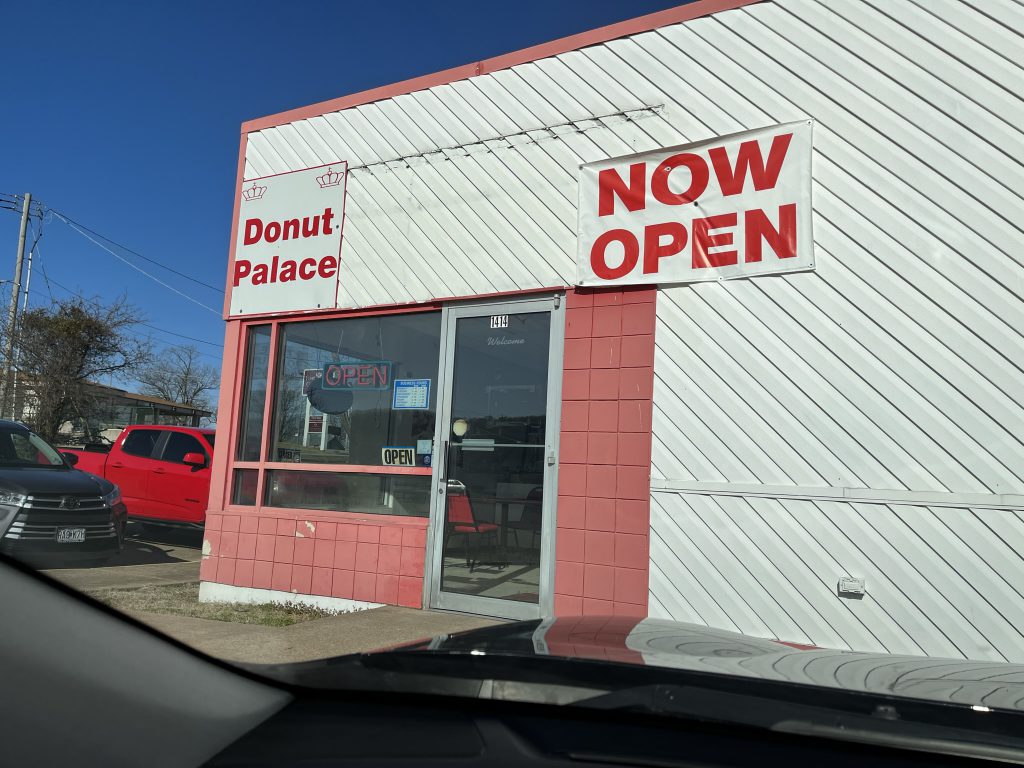 Mudlick Mountain
I started by looking for summits first. Illinois and Missouri aren't exactly known for their mountains but there are a few summits in the SOTA program. The closest summits to me are in South East Missouri in the St. Francois Mountains. This includes Taum Sauk Mountain which is the highest point in Missouri. Any summit in Illinois is a solid 4 hour drive for me, where Missouri is about half that. After some scouting I found Mudlick Mountain in Sam A. Baker State Park. It is listed on SOTA, POTA, WWFF, and only a couple hours from my house.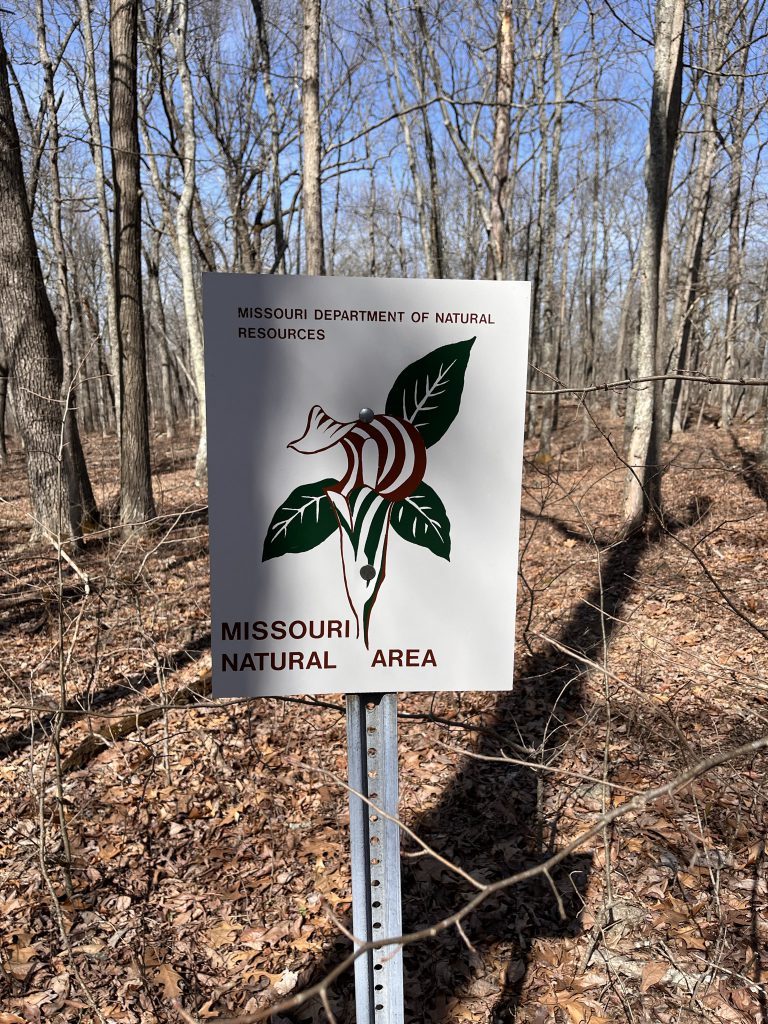 Getting There
You can plug the park name into your GPS and it should get you close enough to find where you want to go. After getting in you'll see a closed gate on your left with a sign for the Fire Tower. This road is the easiest and most direct route to the top of Mudlick.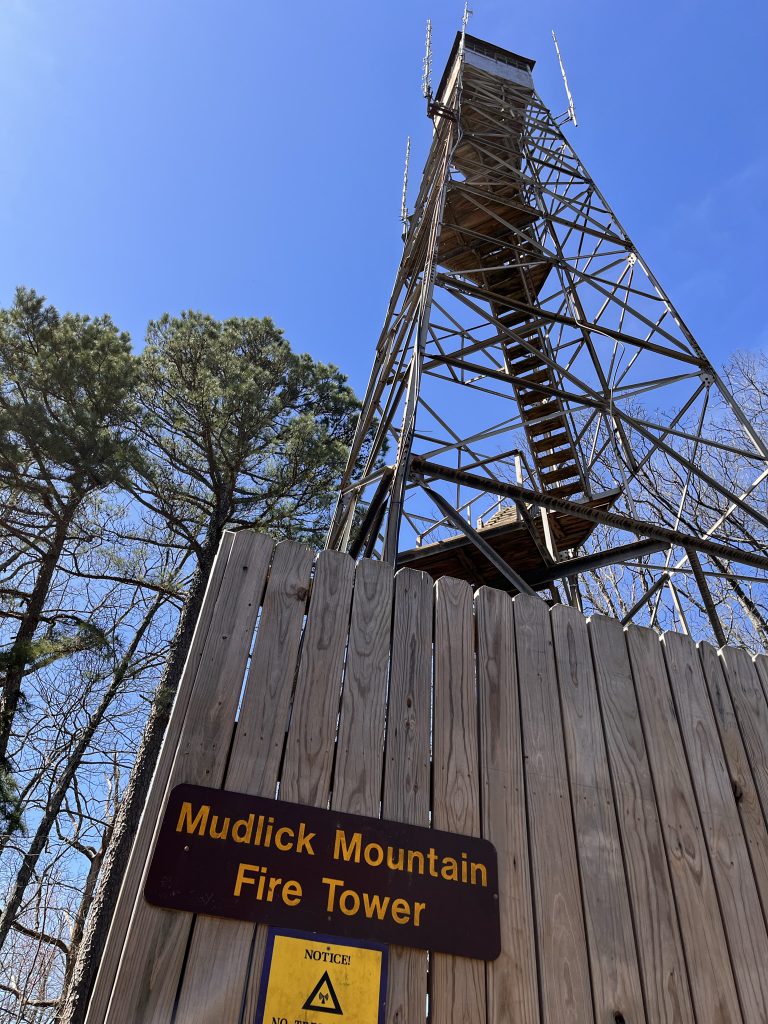 The hike up is only two miles but gains a fair bit of elevation. On my way up I ran into Bryan WN0O leading a Boy Scout trip. It was nice to take a little break at the half way point and chat about radio for a bit.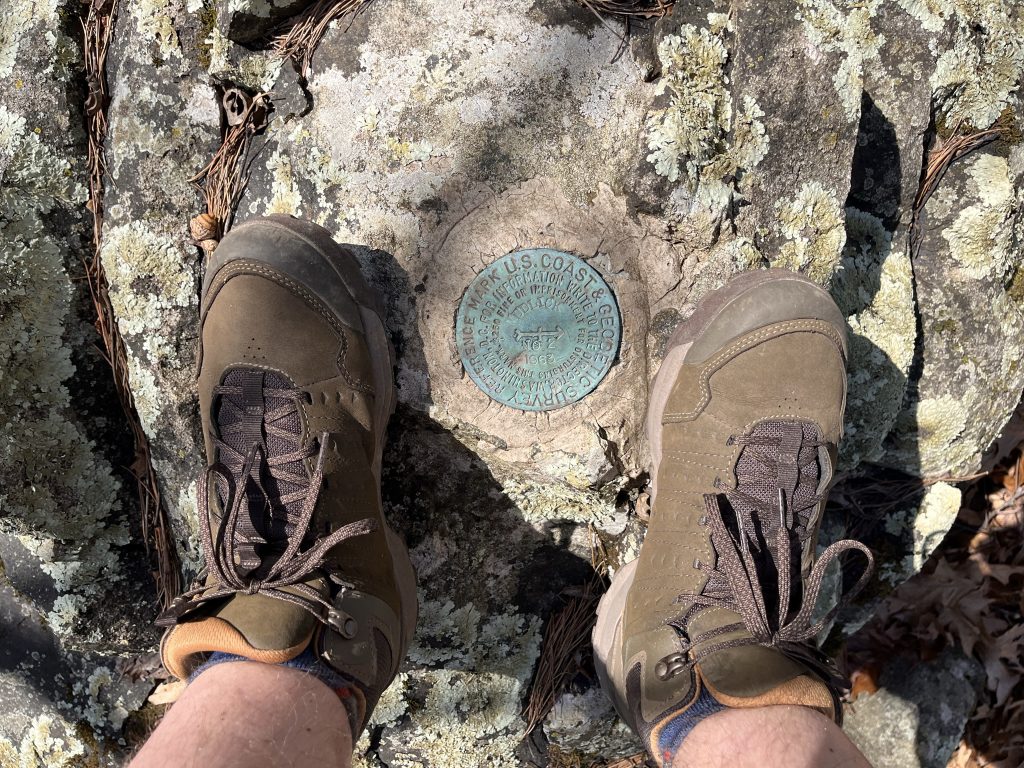 Setup
After seeing some posts on FB hams in Japan using carbon fiber fishing rods as a vertical antenna element, I had to give it a try. I found one on Amazing for about $37. The cardboard box weighed more than the 6.3m pole did. Really amazing how light this thing is. To support it I got a small garden stake from Menards and I used a cheap alligator battery clip to connect it to the AH-705 tuner. I used the radials from the QRPGuys Portable 40/30/20 Tri-Band Vertical that I keep with me. To my amazement it tuned right up on everything from 40-6. It struggled a bit on the higher frequencies but ultimately found a match.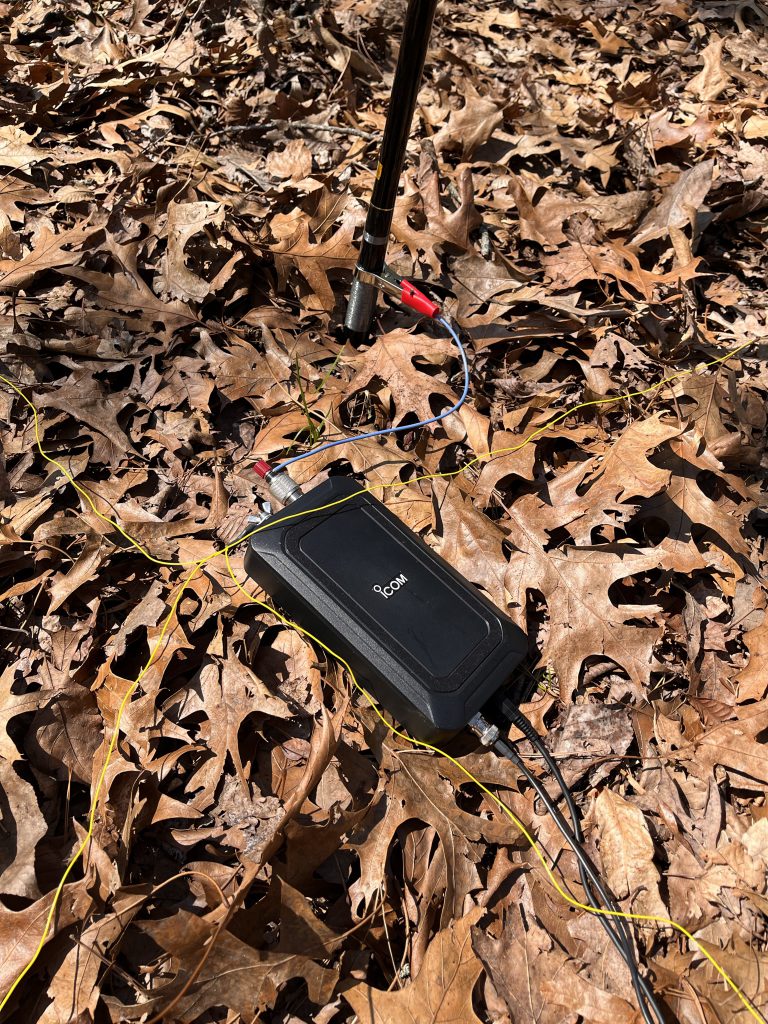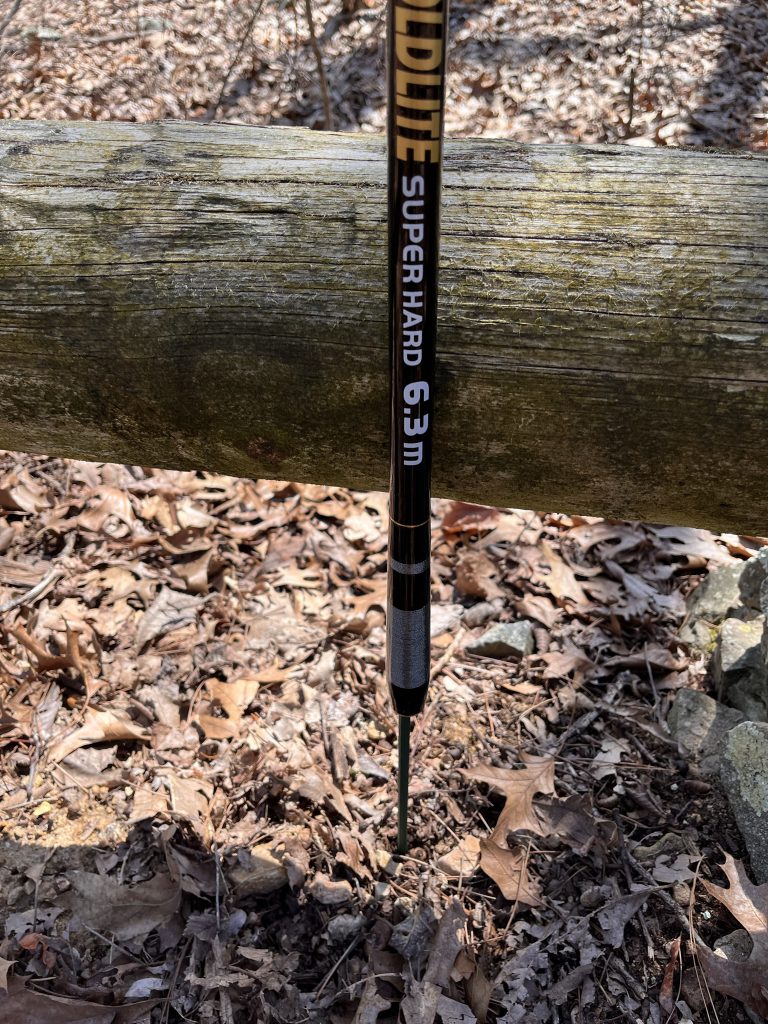 I managed to knock my contacts out reasonably quickly. The carbon fiber antenna worked better than expected. I made a short stop for lunch then packed up and headed back down. If you're out this way and using Garmin maps, ignore it's directions and just head back down the way you came. The Garmin path follows some power lines and is very overgrown.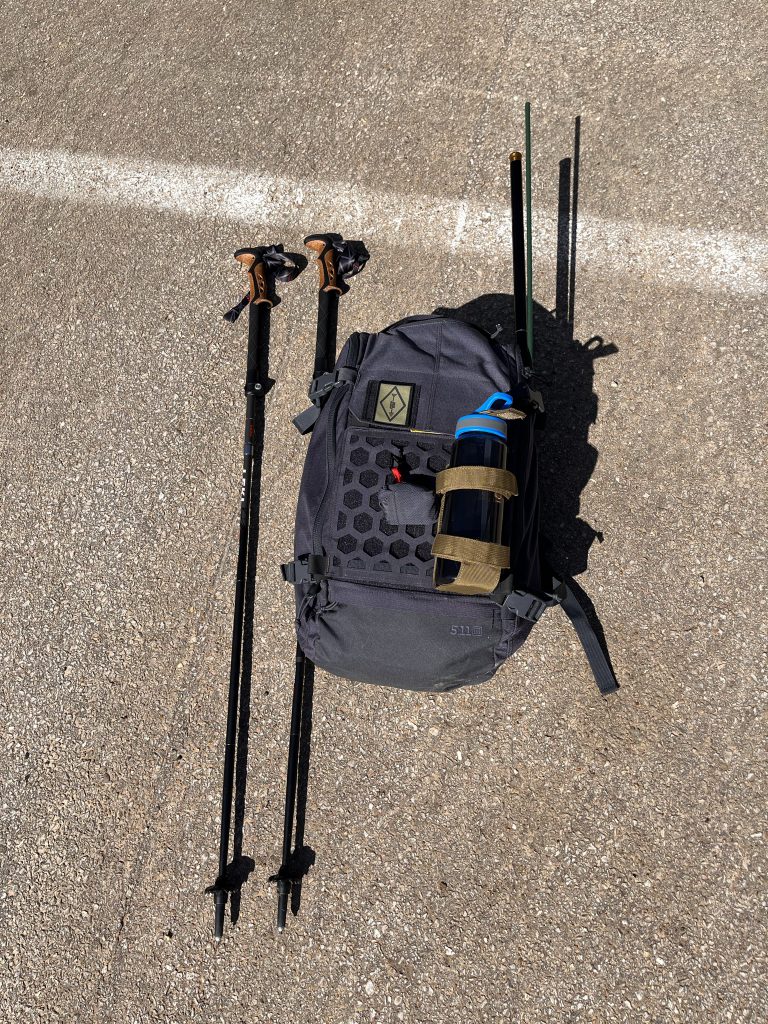 72 – KK9U